Although many Argentina vacations miss the north western portion of Argentina and prefer instead to stick to the well-trodden areas of Patagonia, Buenos Aires and Iguazu; Salta is a rewarding discovery well worth the long pampa-lined drive to get there.  Set in an incredibly varied landscape of lush jungle, arid high-altitude salt flats and spectacular multicolored gorges and rock formations, the region of Salta has an even more unique capital city to embody the diversity of its history, architecture and residents. Known by Argentineans as Salta la Linda (Salta the Fair) this bustling city is a fine mix of the old and new, where European café culture and fine colonial architecture interacts daily with a central American flair for art and living; creating an ever-changing personality and identity for this entertaining city which, as of yet, has been little altered by the tourism wave.
Wander the street of Salta, Argentina!
Photo from Dreamstime
FRIDAY
1 pm: GET REAL
Grab a delicious and authentic Salteño lunch at Doña Salta's, located at the heart of historical and cultural Salta and just across the street from the magnificent rose red and cream-colored towers of the Iglesia San Francisco. Serving what even Argentinean reviewers call "the best empanadas in the country," Doña Salta's also serves a variety of other Creole and Argentine dishes, including mouth-watering pumpkin and beef locro, humitas, tamales, and a chef's menu that changes monthly, depending on the dictates of holiday and seasonal specialties.
2 pm: CULTURE TIME
Stroll off the food coma by walking the short few blocks from lunch down calle Cordoba, turning onto Caseros, which will lead you straight to the city's leafy Plaza 9 de Julio. Dotted with commemorative statues and fragrant orange trees, bordered on all sides by sidewalk cafes and historical buildings; the plaza serves as the main meeting area for much of the city's cultural and social events.  Head directly to the Museum of High Altitude Archaeology (MAAN), housed in an ornate colonial two-story peach building facing onto the plaza. Though the museum's most popular display is the mummified bodies of three child sacrifices found on the summit of the Lliullaillaco Volcano, there are many other fascinating and informative displays regarding the cultural history of Salta's high plains dwellers.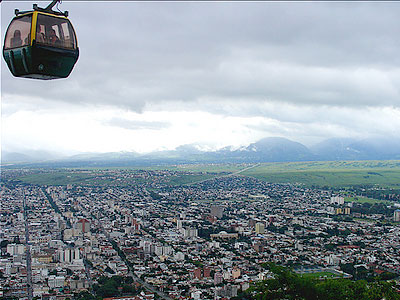 A privileged city view from above on the teleferico, Salta, Argentina
5 pm: SUNSET/MOONRISE
After visiting the museum, take advantage of the central location to stroll the storefronts that border the plaza, where artisans and jewelry makers display their handcrafted wares. Additionally, pop into any of the fine art galleries in this area, many of which deal not only in traditional canvas landscapes and portraits, but also in creative art, like minutely detailed dolls, stone and wood mobiles, colorful weavings and hand-painted wall ornaments. Relax briefly at a sidewalk café for a coffee and alfajor to recharge the batteries before taking the teleferico (Avenida San Martin y H. Yrigoyen) to the summit of Cerro San Bernadino. Snuggle up to your loved one and watch the transformation of the panorama as the city and surrounding Andean foothills fade into darkness; faint twinkling lights replacing the sunny daytime flashes of gold towers and glossy windows.
10 pm: EVENING
Spend the evening in one of the city's greatest institutions: La Casona del Molino. Originally built in 1671, this crumbling colonial mansion (now sans grain mill) is one of the liveliest places in Salta to enjoy a traditional peña, or live music show. Pass around a deliciously potent Cafayate wine on the veranda while tucking into a hearty Argentine steak before heading out; or alternatively, stay to watch the peña show in an audience of fellow travelers, young college students, and life-long Salta residents. The festive atmosphere is tangible the minute you sweep aside the creaky entry gate and walk up the path; already the windpipes and upbeat zamba rhythm (Salta's answer to the samba) can be heard pounding through the flaking walls.
SATURDAY
9 am: PEOPLE WATCH
Though it is true that Argentineans don't really 'do' breakfast, some excellent and filling meals can be found at the cafés surrounding the 9 de Julio Plaza. Fresh fruit smoothies, cheesy tostados and espresso machine coffee prepared the way you like are standard at almost any of the European-style patio cafés around the square – morning paper not included!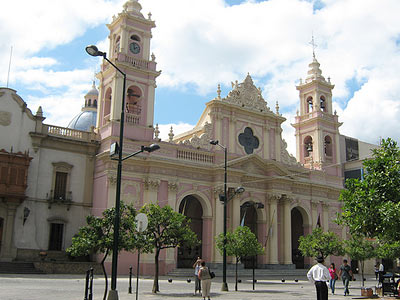 Rose and custard Cathedral on Plaza 9 de Julio, Salta, Argentina
10am: HOW THE OTHER HALF LIVES
After picking up some fresh mangoes, grapes and cactus fruit from one of the ubiquitous fresh fruit carts wheeled around the city, hop on a bus heading to the city's exclusive detached suburb of San Lorenzo, where the wealthiest Argentines keep their summer homes. Lining the gentle slope of this leafy neighborhood that leads to the public park and restaurant at the top are a series of bougainvillea and ivy-covered white brick colonial mansions, many of which also have pools and tennis courts on the extensive grounds visible in gaps along their high adobe walls.
11 am: GAUCHO LUXE
Walk the approximately two mile self-guided mountain trail through the lush green quebrada de San Lorenzo, or talk to the park ranger at the entrance who can give you advice about local families offering guided horseback rides through the gorge. Take your time admiring the gorgeous mountaintop views, hunting for ripe avocados fallen from the trees by the disused stables, and soak your feet from a bridge over the cooling stream that runs along the trail.  Follow the loop leisurely for as long as you like, knowing that a hearty lunch of pasta, fresh steak or sandwiches is waiting for you at the peaceful creek side restaurant El Duende. Split across three levels of native wood furniture and decking, El Duende is an established neighborhood haunt, curled idyllically on a grassy lawn along the same stream that runs through the sub-tropical gorge further uphill.
9 pm: HIGH PLAINS GONE GOURMET
Give into Argentine tradition and have an early-ish dinner at one of the city's most popular restaurants, José Balcarce. Serving a mouth-watering menu of creative modern takes on traditional high-plain Andean cuisine, this elegant restaurant led by chef Lalo Angelina has recently begun making waves on the developing Salteña foodie scene. Popular and more original fusion recipes include llama carpaccio and creamy quinoa-topped llama steak, surrounded by Andean potatoes and fresh asparagus. Opened in 2001 by a team of chefs, this restaurant is proud to include the freshest and most seasonal dishes in its ever-changing menu, most of which come from the local agricultural communities of Tilcara and Humahuaca.
Creamy quinoa-topped llama steak from restaurant José Balcarce, Salta, Argentina
10 pm: TANGO TIME
If in the city on a Saturday, tango the night away at the popular milonga of Paseo de las Poetas, one of only five open air tango venues in Argentina. Entrance is free, with live music starting at around 7 pm (Argentine time, about 8) and continuing until midnight. Gather with the locals and enjoy the plaza experience. If unsure about your tango skills, take a class at El Ático, open Tuesdays and Thursdays for classes from 7 pm onward.
SUNDAY
11am: CITY HANGOVER
Enjoy an espresso and fresh orange juice at a café on the city's bohemian calle Balcarce – forming the heart of the city's artistic community. Located within blocks of the train station where the Tren a las Nubes departs, this stretch of 7 or 8 blocks began 100 years ago as the cultural centre of the city, unfortunately falling into disrepair over the years, then only to be rescued 10 years ago by the city's current mayor. The name Balcarce, however, is now synonymous with 'hip nightspot,' serving as the centre of Salta's vibrant nightlife; with loads of chic and character-laden venues, including La Estacion, which is housed in a converted movie theatre.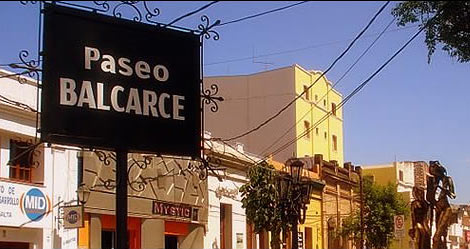 Artsy and independent Paseo Balcarce, center of the town's nightlife, Salta, Argentina
12pm: SHOPPING LIST
Every Sunday, over 200 street vendors gather on Balcarce at the Feria Artesanal de Balcarce to sell their various wares, whether traditional Andean crafts, fresh honeys, regional produce or Alpaca scarves to wrap up in during the chilly Salta winter. Visit the organic market to finish off the final people on your gift list, but don't forget to buy some regional gourmet goodies for yourself as well!
Plan you own tour of Argentina. Contact our team of travel advisors at Latin America For Less and start planning your own customized trip.