Patagonia's remote beauty evokes the romance of isolation like nowhere else on earth. Its ice-carved landscapes and endless glacial wilderness, dense forests and fiercely jagged mountains, isolated outposts of humanity and hardy survivors living in self-exile from their more hospitable homelands; all testimony to Bruce Chatwin's timeless description:
"Patagonia is the farthest place to which man walked from his place of origin. It is therefore a symbol of his restlessness."
These days Patagonia is much more accessible to visitors and with a well established network of excellent hotels, lodges, and transportation, it is easy to explore these wild lands during an Argentina vacation.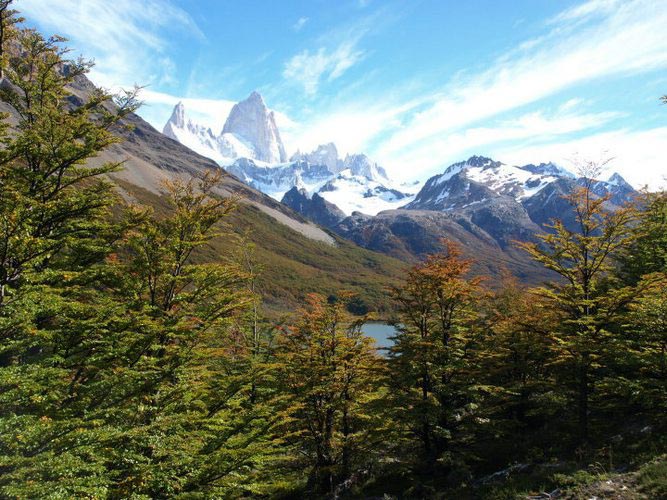 Mount Fitz Roy dominates the picture-book Chalten landscape.
Photo by Matthew Barker 2010
Hiking the Mountain Trails in El Chalten
For lovers of the great outdoors, there are few places on the planet's surface more dramatic and appealing than the vast mountainous landscapes of El Chalten in southern Patagonia.
Home to the famous Mount Fitz Roy, picture-book Alpine forests, glacial lakes, and almost endless stretches of flowering meadows and grasslands, Chalten is an uninhabited wilderness with pristine, undisturbed terrain.
Described as the trekking capital of Argentina, Chalten is ideal for hikers of all abilities. Easily navigable trails lead through the forests, connecting a series of well maintained campsites, all with fresh running water delivered directly from the glaciers in the mountains above. Day excursions are easy from the town of Chalten, and travelers can take guided treks through the mountains and even onto the glaciers.
There are a number of excellent Chalten hotels available, including Alpine-style lodges and homey hosterias. Some hotels offer relaxing spa services, ideal after a long day out in the mountains, and all have restaurants serving the classic and delicious Patagonian dish of flame-roasted lamb.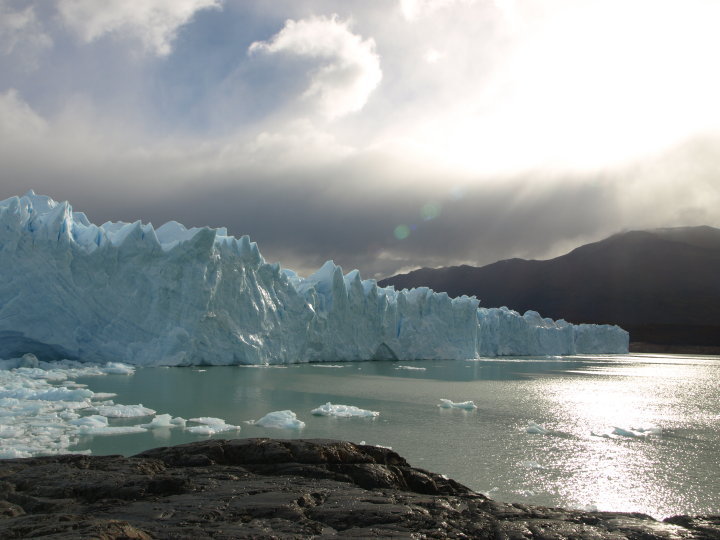 The end point of the vast Perito Moreno Glacier, Calafate.
Photo by Matthew Barker 2010
Tackle the Glaciers of Calafate
The larger and busier Calafate, just across Lake Argentina, is a bustling town that has managed to retain its frontier charm. Calafate is sandwiched between the vast lake and the typically sparse plains of Patagonia that stretch off into the distance until meeting the snowcapped mountains on the horizon.
The town's principal attraction is its proximity to Glaciers National Park, a breathtaking collection of ice flows snaking down from the Southern Continental Ice Field and into the tranquil lakes below.
The glaciers can be explored from the decks of comfortable catamarans that sail travelers almost within touching distance of the glacier wall. Occasionally great shards of ice can be seen splitting and crashing into the water below.
The more adventurous can tour the glaciers themselves on a guided one-day trek that leads into the heart of the vast ice river; a surreal and almost alien environment of absolute tranquility.
There are a wide range of Calatafe hotels and the town is also well known for its chocolate shops and excellent restaurants. Be sure to try roasted lamb marinated with the famous Calafate berry. Local legend states that if you try the berry, you will return to Patagonia again.
A Cruise from the Ends of the Earth
At the farthest tip of Patagonia is the Tierra del Fuego, land of fire, named by the first European explorers who noted the eerie coastal fires set by the indigenous populations. Ushuaia is the regional capital and the southernmost city on Earth, perched perilously on this distant tip of South America.
Despite its remoteness, Ushuaia is a thriving city set amongst a rugged coastal landscape. The port town is a popular starting point for Patagonia cruises leading through the spectacular archipelago between Argentina and Chile. These tours include charting the Beagle Channel, made famous by Charles Darwin's voyage two centuries ago.
The four day cruise from Ushuaia to Punta Arenas passes Tierra del Fuego and rounds Cape Horn before navigating the countless islets on the route towards Punta Arenas on the Chilean side of Patagonia.
Expert guides are on hand to explain the spectacular natural landscapes unfolding on all sides, while onboard chefs cook up a feast for each and every meal. From Punta Arenas, passengers can either fly back to the Argentinean side or extend their vacation with a Chile tour.
Watery Worlds at Puerto Madryn
The charming seaside town of Puerto Madryn sits at the head of the Valdez Peninsula where an enormous coastline of rugged cliffs, reefs, and coves harbor an astonishing wealth of marine and bird life.
A UNESCO World Heritage Site, the peninsula is home to colonies of elephant seals, sea lions and southern right whales, but by far the most famous and popular inhabitants are the huge colony of Magellan penguins that flock the coastline.
But Puerto Madryn's most peculiar claim to fame is the town's origins. Originally founded by a small group of Welsh settlers seeking a better life in the New World, the Welsh language can still be heard alive and well on the town's streets and in the many traditional Tea Shops that have survived and flourished.
Getting Around
Argentinean Patagonia is a vast and varied terrain. Road transportation is feasible between the closer destinations such as Calafate and Chalten, but for longer distances visitors should consider air travel. Ushuaia, Calafate, and Puerto Madryn all have connections to each other and Buenos Aires, with regular services for most of the year.
There really is no wrong time to visit Patagonia, but it depends on what you want to do. The winter months get very cold and traveling between June and July is difficult. However, this is the best time of year for the many snow enthusiasts who flock to the mountain towns of Bariloche and Cerro Catedral to hit the slopes. Whether you are a photographer, hiker, wildlife lover or want to plan an Argentina skiing trip with friends, Patagonia is one of the most spectacular and inspiring landscapes to serve as your backdrop.
Matt left England for Peru in 2008, originally planning to stay for just 12 months but ending up settling down in Lima working for Latin America For Less for three fun-packed years. He remains a perpetual traveller, working and writing his way through Europe, North America and Asia but he has always saved a special place in his heart for Peru and South America.