Ranch life and expert horsemanship are central to many cultures and customs in cattle farming regions of Latin America and the spectacle of a rodeo fiesta is often the highlight of many a South America vacation.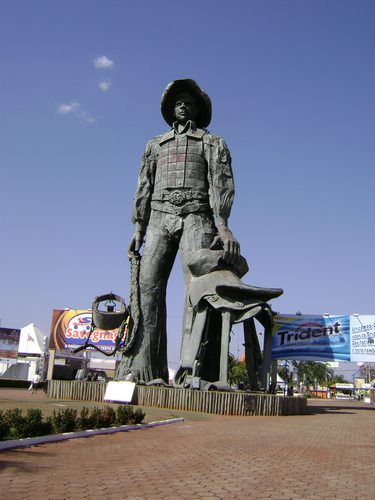 Statue to the Brazilian cowboy celebrated at the Festa do Peão de Boiadeiro, Brazil
Nowhere is this more so than in the Brazilian city of Barretos during the Festa do Peão de Boiadeiro, held every year between 20 and 30 of August. The rodeo draws thousands of spectators and should be a definite feature during any Brazil travel experience.
During the course of the rodeo, the city transforms itself into a buzzing festival of entertainment – sport, culture, folklore and art are centred on the shows of cowboys, horses and bulls.
The "Festival of Cowboys" began in 1955 and has now been organized for over 50 years by the Os Inpendentes Social Club. It is traditionally held around August 25, to coincide with the founding of Barretos, a country city some 440km from the metropolis of Sao Paulo.
The rodeo tradition originated from the historically significant cattle trade that passed through Barretos – cows were transported to slaughterhouses in the city from the neighboring ranching states of Goiás, Mato Grosso, Mato Grosso do Sol and Minas Gerais.
Those cowboys who were responsible for transporting the cattle would hold contests amongst one-another to see who could ride the most energetic and lively horses, and so the tradition began. Much in the same style of its North American counterparts, the rodeo has now incorporated the more difficult skill of bull riding.
Revelers dressed in Cowboy and Cowgirl paraphernalia fill the city's 35,000 seat stadium to catch a glimpse of the shows. The stadium was designed by world famous Brazilian architect Oscar Niemeyer and it replaced the central Paulo de Lima park as the main venue in 1985. It is surrounded by the 1,440.000 m² Park de Peão where shops, restaurants, theme parks, food markets, clubs and stalls of all description set up shop for the week.
There is now millions of dollars invested into the Festa do Peão de Boiadeiro, and prizes can range from anything a cowboy hat to a luxury car while cash prizes reach as much as 100,000 Brazilian Reales ($50,000) for the overall winner.
Plan your our Brazil tour. Call and chat with one of our expert travel advisors and take a customized trip!