Have you ever dreamed of waking in a sun-filled cabaña with the scent of salt and tropical fruit breezing through the windows, and a view of glassy, ultramarine seas surrounding your island paradise on all sides?
Ilha Grande, the grand island just off the coast of Brazil between Rio de Janerio and São Paulo, is for you. Escape the busy citylife to experience a Brazil hotel you can almost call your own.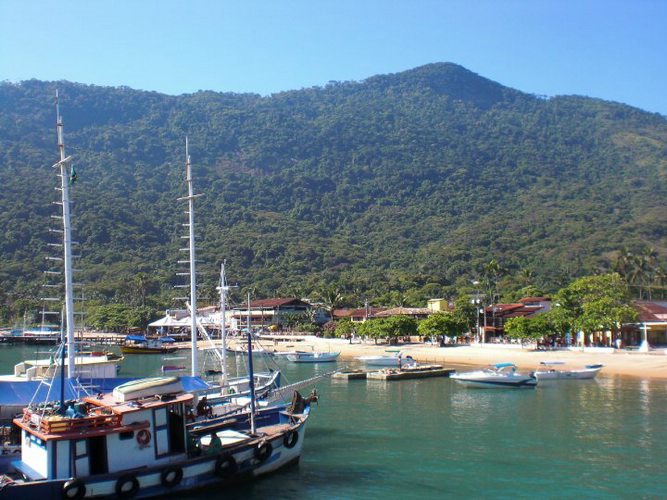 The main town on tropical Ilha Grande, Brazil
Surrounded by pristine beaches and a crisp blue ocean, the island and the surrounding ocean are part of the Ilha Grande National Park. The center of the island is filled with a rich range of wildlife and some of Brazil's last remaining Atlantic rainforest.
The island is only accessible by boat and, except for the local ambulance, no cars are allowed. The best way to get around is to hike: there are over 150km of hiking trails snaking through jungle vegetation, deserted beaches, freshwater pools, and spectacular waterfalls.
The eastern coastline is exposed to the Atlantic, and its waves are popular with surfers and body boarders. The rough seas have also claimed a number of vessels in the years since colonization; these wrecks are now visited by many scuba diving schools. A yacht tour is another excellent way to explore the beaches surrounding this beautiful island.
The town of Abraão faces the port of Angra dos Reis on the Brazilian mainland, and the majority of ferries between the mainland and the island dock in this port.
In Abraão you will find some excellent restaurants and bars that are great to explore as the sun sets on this pristine island. You will also find posadas, a type of Brazilian hotel room. It is essentially an en suite room in a family-styled home.
For visitors looking for more luxury it is possible to stay in one of the many luxury eco-hotels outside of town. These are only accessible by private boat from the hotel.
Abraão has almost the typical tourist services, but be warned, internet connectivity is limited and credit cards are not widely accepted.
Visitors to Ilha Grande are privileged to experience such a unique environment. Be prepared to relax, explore and experience one of the best places that Brazil has to offer.
Plan your own exciting trip to Brazil. Call and talk with an expert travel advisor to plan a customized trip!