As Chile honors 200 years of independent history, the nation celebrates its rich and diverse past through a year of festivals and celebrations. Latin America For Less' Jonathan Hudson was lucky to see the start of the party and tells readers what´s next.
A first-hand account of the celebration in Chile
The atmosphere is electric. Thousands line the streets of Santiago all with one thing on their minds – the 'Pequeña Gigante'.
The Little Giant? What´s that? I wondered, until I was graced with its presence.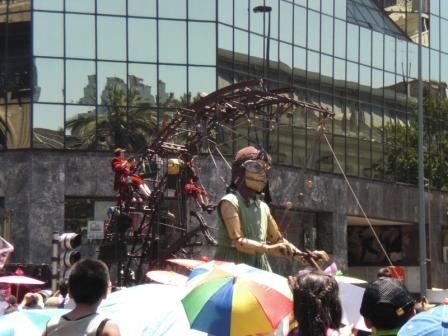 Giant Puppet on the streets of Santiago.
Photo by Jonathan Hudson.
2010 is a big year for Chile. It has been 200 years since the birth of the Chilean Republic. Kicking off Chile´s fiestas in style, Santiago is celebrating 200 years of national theater with two giant puppets.
The first puppet, known as Little Giant, was a two-story-tall pulley-driven mechanical wonder. As she rode her gigantic tricycle, puppeteers on a crane behind her threw their weight onto each of the ropes to make the puppet wave and smile. It was a truly fantastic piece of artwork.
As the Little Giant passed, her uncle, Mr. Escafandra, arrived. The Uncle was twice as tall and was costumed in an old diving suit. On his giant carnival float was a full-sized boat that moved as if in a rough ocean, spraying water over the crowds, to the delight of many. Both he and the boat were also controlled by an intricate network of pulleys and puppeteers.
Add to all this a catchy melody humming through the streets. Traditional musicians walked before the puppets, entertaining the crowds. As the puppets wound the packed streets of Santiago, adults and children look up on it with excitement, with a sense of national pride and jubilation.
Centering around the Plaza de La Constitution and Plaza de Armas, the parade took place during a weekend in January. There were also street shows, arts exhibitions, and other events. Official celebrations finished on the Sunday night with the puppets put away into gigantic toy boxes on stage. The closing spectacle is an image that will stay with me and bring back fond memories of Santiago and Chile.
Santiago was my first ever destination in South America some time ago and was a good introduction to the continent. The city is safe and the people warm. Festivals such as these bring out the best in a country and Chile definitely stepped up to the mark. Best of all it was free.
For the rest of the year a range of events are planned up and down the country. The official date of Chilean independence, or Fiestas Patrias, is the 18th of September. This holiday is celebrated with food, dance and of course, Chilean wine. This year, the holiday falls on a weekend, and the Chilean President has applied to Congress to make Monday the 20th also a holiday.
The Chilean coastal towns of Vina del Mar and Valparaiso will be hosting bicentennial events of their own, as well as other major Chile destinations.
As with most festivals in South America you should bear these things in mind:
Most hotels will be booked in advance so if you're traveling independently of a tour, make sure you book ahead for the Independence Day weekend.
Banks and other essential services will be closed for the holiday, so don't be caught short without any cash.
Transport schedules shouldn't change, but fares may rise and tickets may be booked in advance.
When in a large crowd anywhere in the world, use sensible caution to avoid the risk of being pick-pocketed. Keep valuables in inside pockets or money belts.
Plan your own exciting tour of Chile. Chat with one of our expert travel advisors at Latin America For Less.