Galapagos Islands rewarded for conservation efforts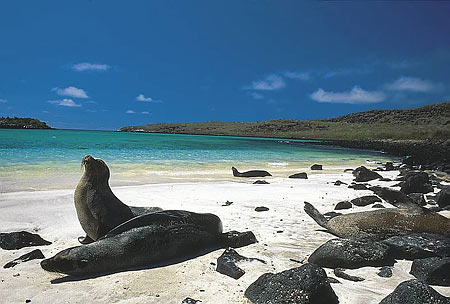 Pristine beaches on the Galapagos Islands which have been recognized by UNESCO
Pioneering efforts to protect the fragile and unique biodiversity of the Galapagos Islands have been rewarded by the UNESCO World Heritage Committee, with the removal of the islands from the "List of World Heritage in Danger."
The Islands, described as a "living museum and showcase of evolution" were famously explored by Charles Darwin, and have since become a world famous beacon for the magical diversity of natural life on planet earth.
The archipelago is famed for its rich collection of endemic species which evolved in total isolation from other creatures, making them a unique environment and immensely important to biological science, as well as fascinating to visitors who can explore the islands on Galapagos Island cruises or land-based island hopping tours.
However, the Islands were added to the Danger List in 2007 due to the risks to the pristine environment created by introduced species, unmanaged tourism and unsustainable fishing of the nearby seas.
However, a pioneering plan by the Ecuadorian government has successfully addressed each of these problems, allowing the development of a more sustainable model to tourism on the Islands.
Conservation projects include the successful reintroduction of a threatened species of tortoise, and efforts to limit the impact of human inhabitants, including 190,000 tourists each year. The human population had been responsible for various significant problems, including pollution, oil spills, the introduction of invasive species and even poaching of rare and endangered species.
The World Heritage Committee voted 15-4 to take the Islands off the Danger List, in a motion cast by the Brazilian delegation. The Danger List allows UNESCO sites to draw upon additional United Nations resources and places pressure on national governments to take action and protect sites of global natural, cultural or historical importance.
Other UNESCO sites in Latin America that have been removed from the Danger List thanks to proactive conservation management include Sangay National Park, also in Ecuador and Iguazu National Park in Brazil.