Peru Tours in the Sacred Valley
The Sacred Valley is one of the most important destinations in Peru. This dramatic landscape of snowcapped mountains, green valleys, gushing rivers and countless tiny rural villages and settlements is often the pinnacle to experiencing this part of Peru.
Sacred Valley tours are offered by all international Peru vacation package providers but the adventurous can easily set out alone and see the best of the Sacred Valley on a two day loop.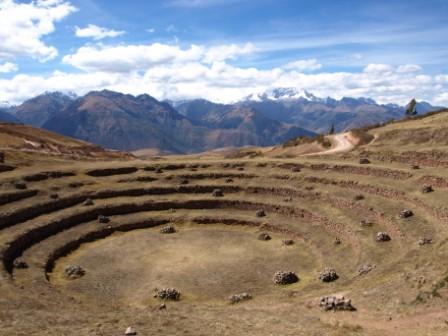 Inca Ingenuity at Moray, Sacred Valley, Peru.
Photograph byMatthew Barker,2009
All of the following attractions can be visited with the universal tourist ticket boleto touristico ($40) which offers entrance to most of Cusco and the Sacred Valley's sites.
Start from Cusco with a bus from the terminal at Puente Grau. Buses here leave for the main transport hub at Urubamba but don't continue all the way, ask to be let off at Tiobamba where you'll be able to catch a taxi to the fascinating Inca site at Moray.
Resembling a series of large amphitheaters, the circular agricultural terraces at Moray were actually an elaborate laboratory which created a series of micro-climates with which the ingenious Incas could determine the optimal growing conditions for all their most important crops, thus ensuring a steady supply of food for the entire empire.
A walk around Moray lasts around an hour, but on-site services are extremely limited – bring water and snacks with you.
Take the return taxi back to the main road at Tiobamba and wait for a passing bus heading on to Urubamba. There's little reason to stay in town, you can easily switch buses and head straight on for the much more attractive town of Ollantaytambo.
This small village is one of the most picturesque settlements in the Sacred Valley, where cobbled streets and traditionally-built homes give a picture of life which has gone largely unchanged for hundreds of years.
Ollantaytambo is home to an impressive set of Inca ruins but you might want to save these for the following morning. Content yourself with a relaxing walk along the wide, fast flowing River Urubamba. Follow the trails leading up the surrounding hillsides for wonderful views over the town and the ruins.
Spend the evening enjoying the town's small but bustling nightlife, with a great selection of restaurants and bars to choose from.
The town's ruins open to the public at 7am which is a good time to catch the pre-tour crowd. Bilingual guides are available for around 30 soles, which are strongly recommended due to the lack of alternative information around the site.After a couple of hours walking up and down the steep ruins and enjoying the breathtaking views, head back into town for a bite to eat at Heart's Cafe, the profits of which go to support local community projects in the surrounding area.
After brunch, catch a bus back to the main terminal at Urubamba and switch buses for another gem, the bustling town of Pisac.
If you can time your trip, arriving in Pisac for midday Sunday will give you a memorable insight into rural Peruvian life with a massive, frenetic market where all the region's produce goes on sale.
Stalls offering produce as diverse as coca leaves, live guinea pigs, fruits, vegetables and all kinds of meat compete with more tourist friendly stalls laden with souvenirs and holiday gifts.
Spend an hour or so exploring the enormous market before catching a taxi to the top of Pisac's ruins, an enormous complex comprised of Incan and pre-Incan constructions, vast agricultural terraces, mountainside tunnels and temples.
Once again, a guide is recommended and give yourself at least three hours to explore the entire site.
Heading back into town, those with a strong constitution can try a glass of the local tipple, chicha, which is created by chewing and spitting corn kernels into vats for fermentation. Chicha is available from rustic outlets, usually someone's kitchen, look out for a red flag at the front door and be prepared for lots of inquisitive attention from the locals!
If you can't wait, have a late lunch in Pisac or else catch a direct bus back to Cusco, which should take around one hour. Settle back in to your Cusco hotel and relax after your two day adventure in the Sacred Valley!
Plan  your own tour of Peru. Contact us and we'll help you plan a vacation of a lifetime!