One of the most unusual and interesting detours during many people's Peru vacations are the floating islands of Uros, high up on Lake Titicaca, a short boat ride from Puno. The islands, constructed entirely from reeds, are home to a community of several hundred indigenous Peruvians who have lived in this high altitude world for many centuries.
Spending a day on the Floating Islands of Uros
Conquests by other Aymara tribes, competing for the highly fertile lakeside land, caused the local people to take to the lake in reed-constructed boats in a bid to escape their more aggressive rivals.
As natural fishers and boatmen, the people of Uros found lake life to be entirely satisfactory, and they gradually expanded their boats until they became islands in their own right. It is on these islands that they remained, trading their abundant fish for other products with their land-based neighbors.
The people of Uros have become one many unique communities which can be easily visited during a Peru travel adventure.
Nearby Puno boasts many tour operators who can arrange short visits to the islands, while more convenient excursions are also offered by international providers of Peru tours.
A trip to the islands is highly recommended and is guaranteed to offer the visitor a new insight into indigenous Peruvian life. The communities are virtually self sufficient; they harvest the lake for fish and also produce a variety of meals and products from the reeds themselves.
They have become expert hunters, using homemade rifles to hunt the birds that live within the reed forests and taking eggs from bird nests, but only taking 5 out of 10 eggs, keen to emphasize their connection and sense of protection of the natural world that they depend upon.
The islands themselves are a sight to behold. Constructed atop the harvested roots of reeds, they consist of a thick layer of freshly cut reeds which create a bizarre, spongy feel underfoot and mean that no child can ever injure themselves by falling over!Each island has around a dozen homes, also made from reeds plus a small chapel and a communal area and shared kitchen.
Recent additions have included improved sanitary facilities and solar panels which have cut the risk of fires from open candles and wood burning ovens. These improvements have been possible thanks to proceeds from a well-managed and sensitive approach to tourism which ensures that incomes are evenly distributed and community life does not become unsettled.
At the center of this floating community is a central, communal island, where the local councils meet and organize the life of the community, and also where a small restaurant, shop and even a hostel caters for the needs of community members and visitors alike.
Most trips to the islands last for around three hours, including a tour by a bilingual guide and a chance to meet the islanders themselves. Also available for purchase is the impressive range of handicrafts that the islanders have to offer, including elaborately and colorfully decorated materials and textiles, and small models expertly made from the reeds.
If you're lucky, you might even get a chance to ride one of the impressive double-tiered reed boats that are hand-built on the islands according to ancient skills and traditions and which are much more sturdy and stable than they first appear.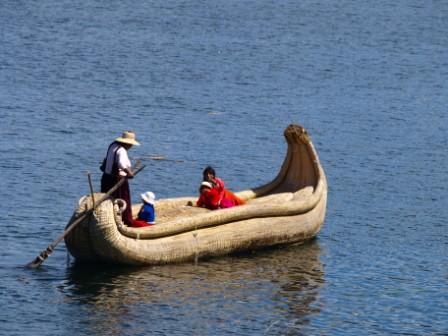 A Uros family on a traditional reed boat, Peru.
Photo by Matthew Barker,2009
Be a responsible traveler
As with any trip to an indigenous area, it's important to recognize that you're visiting an ancient but potentially fragile community and that your impact can be a positive one if you take some simple considerations:
– Feel free to take gifts, but try to ensure they're useful, healthy and culturally neutral. Sweets are a bad idea, as is anything that depends on batteries or produces a lot of waste. Colored pencils, crayons, coloring books and other educational toys for the kids are ideal.
– Indigenous societies are often conservative and hierarchical. Be guided by your tour leader when talking with community members and offer any gifts to the local chief who will distribute them to his community.
– If considering purchasing some local produce, bear in mind that tourist income is often the only additional source of cash so try not to barter too hard!
– Most of all, enjoy your trip and buen viaje!
Plan a Peru tour. Call and chat with one of our expert travel advisors and discover the magic of this country!
Matt left England for Peru in 2008, originally planning to stay for just 12 months but ending up settling down in Lima working for Latin America For Less for three fun-packed years. He remains a perpetual traveller, working and writing his way through Europe, North America and Asia but he has always saved a special place in his heart for Peru and South America.