Odyssey in paradise: Rafting in Costa Rica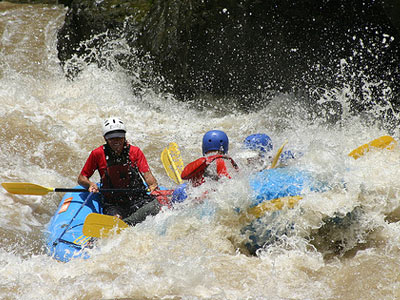 White water rafting on the Pacuare River, Costa Rica
Put Costa Rica's dramatic mountains and heavy rainfall together and what do you get? Some of the best white water rafting in the world! Costa Rica offers something for every rafter, from hardened and experienced adrenaline junkies to first-timers looking for an introduction to white water thrills.
The best time to hit the water is during the rainy season, from late August to November. At this time of year, the rivers are swollen and fast flowing, offering a bigger variety of options for all levels.
One of Costa Rica's most popular rafting spots is the Pacuare River, widely recognized as one of the top rafting rivers in the world thanks to a perfect combination of jaw-droppingly beautiful natural scenery and fast-flowing waters.
The waters are warm, the cascades are stunning and the river meanders through the dense tropical Costa Rican rainforest, surrounded by a huge diversity of wildlife. The river is generally Class III to IV, which means unpredictable waves, narrow waterways and long patches of white water, getting wet out here is a certainty!
Exploring the Pacuare River is all the more enjoyable on rafting trips departing from the Rio Tropicales Lodge, who has partnered with Costa Rica For Less to offer an adventurer's dream trip; rafting down whitewater rapids, zip lining through the tree tops, and exploring deep into the jungle to get up close and personal with the rainforest's countless inhabitants.
The lodge, built from ecologically sourced local materials, is set amid a large reserve of tropical gardens and untouched jungle, complete with swaying hammocks and viewing platforms from which the local colony of toucans can be spotted. A vast network of trails are perfect for exploring, while a series of freshwater pools stemming from the Pacuare River itself allow blissful and relaxing bathing.
Costa Rica For Less' exclusive Rafting Odyssey travel deal allows visitors to arrive at this splendid lodge by raft, spend two full days exploring the rainforest reserve before leaving for another full day on the water. Visit the Costa Rica For Less site for more information.