Machu Picchu Travel Guide
Imagine yourself at Machu Picchu, perched on a mountain ridge 2,350 meters (7,710 feet) above sea level, surrounded by jungle and clouds of mist. With its dramatic history, amazing stone architecture, and majestic natural setting, the Inca citadel is an enduring highlight of a once-in-a-lifetime trip to Peru. This Machu Picchu Travel Guide aims to prepare you for the journey.

Neither words nor pictures can fully capture the beauty of Machu Picchu. Photo by Peru for Less
Introduction
"We have here [in Machu Picchu] a pure expression of the most powerful indigenous civilization of America, immaculate of the contact of the victorious armies" Ernesto "Che" Guevara
Machu Picchu is a masterpiece of the Inca civilization, whose 15th century empire grew to encompass almost the entire length of the Andes in South America. The arrival of Spanish conquistadors in the 16th century laid waste to the mighty empire, but one stone city survived untouched and it stands as a testament to the genius of indigenous civilizations in the Americas. It's been five centuries since Machu Picchu was first constructed and then abandoned by the Incas, and more than 100 years since Hiram Bingham reintroduced the ruins to the world by. Mystery continues to shroud many aspects of the site's history and these enigmas are certainly part of Machu Picchu's enduring attraction, even as new research in the 21st century provides answers to longstanding questions. Meanwhile, both the Peruvian state and international organizations are constantly monitoring the ruins in an attempt to balance visitor demand with the need to enforce protective measures. As the number of travelers to Machu Picchu continues to increase, the need to conserve the site for future generations becomes more urgent. Despite the challenges, Machu Picchu continues to captivate our imaginations with its mix of natural majesty and hand-sculpted elegance.
Location and Geography
Machu Picchu is located 80 kilometres (50 mi) northwest of Cusco, where the eastern slopes of the Andes dive down to meet the Amazon. Deep canyons, dense vegetation, rushing river rapids, and steep granite cliffs make the area difficult to access. Even in the 21st century, there are no roads to Machu Picchu.
In 1911, Hiram Bingham followed a mule trail constructed along the banks of the Urubamba River connecting the Sacred Valley to farms deep in the cloud forest. On a foggy morning, he and his crew, led by a local guide, sliced a trail through thick jungle growth, climbing 450 meters (1,480 feet) from Mandorpampa near present-day Aguas Calientes to reach the ruins atop a mountain ridge.

Hiram Bingham III, history professor and amateur explorer. Photo by National Geographic
The now world-famous Inca Trail provides an alternate way to Machu Picchu, but this footpath presents its own set of challenges. Trekkers must traverse 43 km (36 mi) of Inca paths, scaling two mountain passes above 4,000 meters (13,000 feet), including the tellingly named Warmiwañusca, or Dead Woman's Pass.
Most modern-day travelers elect to take the train to Machu Picchu, which departs from the Sacred Valley and from Cusco, descending from the highlands to the jungle via the course set out by the river. Trains arrive to the station at Aguas Calientes, located 6 kilometres (3.7 miles) from the archaeological site. For the final leg, a road winds its way from the town and up a series of switchbacks to the modern gate entrance of Machu Picchu.

A switchback road zigzags its way from Aguas Calientes to Machu Picchu. Google Maps
Machu Picchu citadel rests on the saddle formed by two high mountains peaks: Machu Picchu Mountain at 3,051 meters (10,009 feet) and Huayna Picchu Mountain at 2,701 meters (8,860 feet). The central plaza sits at an elevation of 2,350 meters (7,710 feet). The ruins provide unparalleled vistas of the surrounding landscape, which alternates between low peaks swathed in green forest, high peaks capped by glaciers, and plummeting valleys carved by the Urubamba and adjacent rivers.
In 1983, the Machu Picchu Historic Sanctuary was created to encompass the archaeological site and its surrounding ecological zones. The area encompasses 32,500 hectares (80,000 acres) and is home to diverse species of rare flora and fauna – including Peru's national bird, the Gallito de las Rocas, and the endangered spectacled bear – as well as the Inca Trail, numerous Inca sites, and the apu Salkantay.
Climate
The Peruvian Andes and Amazon have two main seasons: wet and dry. The wet, rainy season is between November and April, and the dry season is between May and September.
Machu Picchu's position between the Andes and the Amazon makes for climate conditions that are neither as chilly as the high mountain plateaus nor as steamy as the deep rainforest. Temperatures are warmer and humidity is higher at Machu Picchu/Aguas Calientes than in Cusco. In general terms, weather patterns at Machu Picchu can change quickly regardless of season. It's not unusual to experience heavy morning fog, intense midday sunlight, afternoon showers, and warm, clear evenings all in one day!
The rainy season (November to March) brings frequent and unpredictable storms, which can vary from light drizzle to heavy downpours. You will want to pack rain gear and/or buy an inexpensive poncho in Cusco, the Sacred Valley, or Aguas Calientes. Note that the Inca Trail to Machu Picchu is closed for the entire month of February, which is historically the rainiest month of the wet season. Even when the Inca Trail is closed, Machu Picchu remains open to visitors arriving by train. Salkantay and other alternate treks remain in operation. For travelers seeking to avoid the larger crowds of the dry season, the wet season may be an ideal time to visit despite the possibility of rain.
In the dry season (May to September), temperatures can run from 12º Celsius (50º Fahrenheit) at night to the mid-30º Celsius (upper 80º Fahrenheit) during the day. But don't leave your fleece jacket behind in Cusco - occasional cold fronts from the south can cause temperatures to drop and, again, weather is unpredictable. June, July, and August are also the busiest months at Machu Picchu. Travelers on summer holidays from Europe and North America join up with Peruvian vacationers enjoying time off from work and school. To avoid this mashup, you'll want to travel to Machu Picchu in the shoulder months of April, May, or September.
Highlights
Machu Picchu Sights

Machu Picchu at twilight. Photo by MachuPicchu360.org
The Inca worldview divided everything that existed in two opposite and yet complementary sides. Heaven and earth, day and night, moon and sun, male and female: these dualities reflected the harmony of the universe. Pachacutec redesigned the imperial city of Cusco to have two sides: Hanan (the upper) and Hurin (the lower). This same concept was applied in the urban area of Machu Picchu, which has eastern and western sectors divided by a wide plaza.
The urban area is also separated by a wide canal from the agricultural area, which consists of terraces, called andenes, some of which were built concentrically and others in a semicircular shape. The Guardhouse (or Caretaker's Hut) is in the agricultural sector. This is the vantage point for iconic photographs of Machu Picchu, with the peak of Huayna Picchu as a backdrop (Photo 1). From here, trails lead to Inti Punku (the Sun Gate entrance to Machu Picchu from the Inca Trail), to the Inca Drawbridge, and to the Main Gate which leads into the urban sector and frames a perfect view of Huayna Picchu.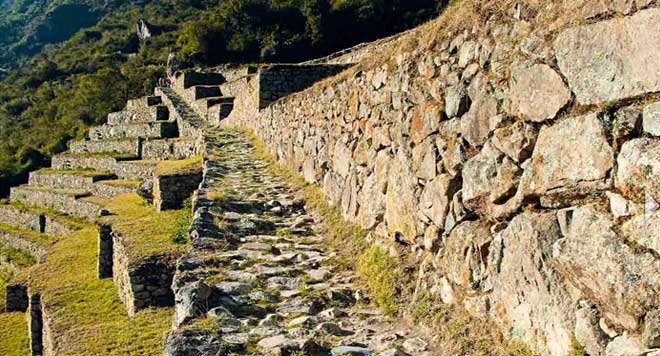 Agricultural terraces at Machu Picchu. Photo by MachuPicchu360.org
Hanan - Upper Side
Complex One: Machu Picchu has 18 complexes (conjuntos), each one surrounded by a wall and accessed by limited entrances. Complex 1 is immediately to the left after passing through the entrance to the urban area. The complex comprises five levels of buildings that include storehouses and llama yards. A water canal is visible from the lowest level. It goes through the urban wall and empties into Fountain 1 (of which there are 16 total).
Temple of the Sun: Often called the "Torreón" or "Great Tower", this was one of Machu Picchu's main religious buildings. It is distinctive for its semi-circular shape, which exists in few other Inca sites, most notably at Qorikancha in Cusco. It encloses a huaca, a rock outcrop carved to make an altar. During the June solstice, sunlight pours in through the south window to illuminate the rock, suggesting that the temple may have been a solar observatory. The stairway entrance to the Temple is carved from a single rock.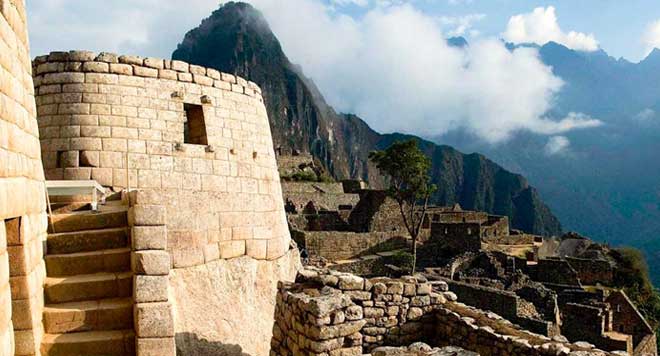 Sunlight enters the window of the Sun Temple on the winter solstice. Photo by MachuPicchu360.org.
Royal Tomb: Underneath the Temple of the Sun, large natural rocks and fitted stones have been fashioned to create a small cave.. Inside the cave, there are large niches and a fine stone sculpture. Some guides believe that Inca mummies - perhaps Pachacútec's - may have been kept here. Taken as a whole, the structure accentuates the skill of the Inca stonemasons
Sacred Square: This plaza is bordered on three side by buildings. Two of these are especially remarkable: the Temple of the Three Windows and the Main Temple. The open side looks out over the San Miguel Mountains.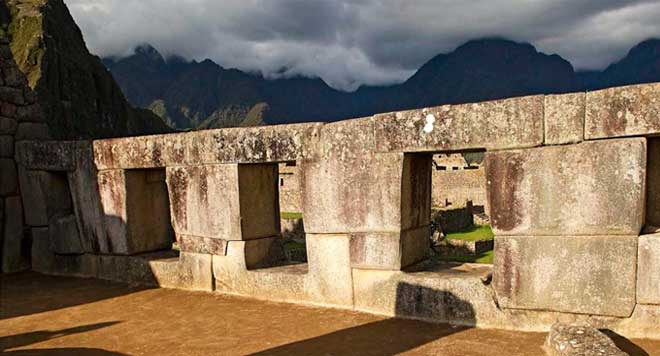 The monumental stone pieces of the Temple of Three Windows can be found on the Sacred Square.
Photo by MachuPicchu360.org.
Temple of the Three Windows: This structure features very large stones with many sides that fit together like monumental puzzle pieces. The three large windows led Bingham to speculate that Machu Picchu was perhaps Tambotocco, the mythical three caves from which the first Incas emerged.
Main Temple: The principal temple exhibits probably the most conventional Inca religious architecture as refined in Cusco. The foundations under part of the structure have settled; given the fact that very few Inca building were allowed imperfections, some theorists believe that temple was still under construction when the city was abandoned.
Intihuatana: Terraces were built around this natural hill to give it the appearance of a pyramid. Two granite stairways connect the base of the hill with the top. Halfway up there is an "image stone," a large rock carved to imitate the forms of mountains, Yanatin and Putucusi, in the background. The Intihuatana, literally "hitching post of the sun," is at the very top of the hill. The 4 corners of the stone sculpture point in the cardinal directions and also align with the sacred mountains, Salkantay and Veronica. From the southern approach, the shape of the stone mimics the form of Huayna Picchu. In 2000, one corner of the sculpture was damaged during the filming of a Cusqueña beer commercial.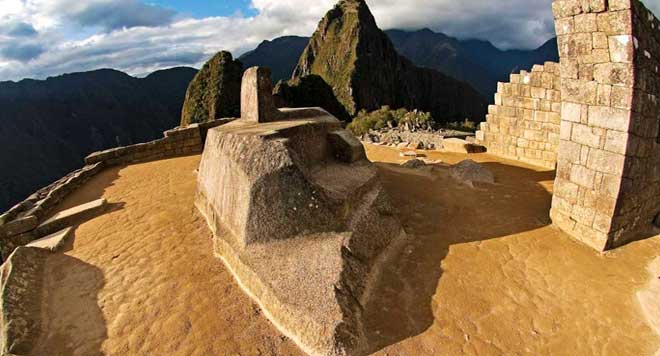 The Intihuatana is at the top of a terraced pyramid. Photo by MachuPicchu360.org.
Hurin - Lower Side
Sacred Rock: A large rock polished flat, placed atop a fitted stone pedestal, and flanked by two open-sided buildings called wayronas. It has the same shape as the mountain behind it. Before it was cordoned off, mystically-inclined tourists would lay their bodies flat against the stone, supposedly to absorb its energy. The rock marks the departure point to the Huayna Picchu trailhead
Sector of the Three Gates: This group of buildings is believed to have been used for housing and workshops. Three canchas are connected by three identical gates and its walls and niches also show interior symmetry. The group of buildings faces Machu Picchu's main square.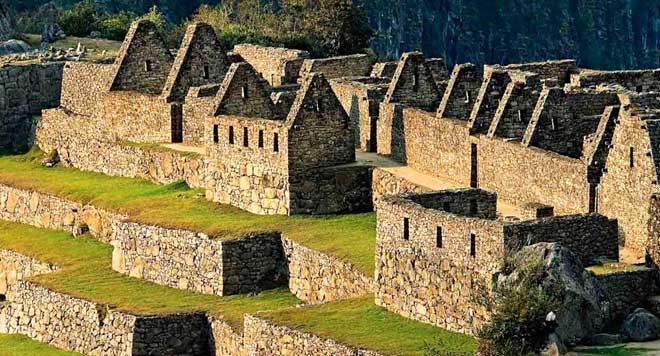 Sacred symmetry characterizes the ruins of Machu Picchu. Photo by MachuPicchu360.org.
Acllahuasi or Group of the Mortars: This building's purpose is not clear, but one theory holds that this was a temple for acllas, or women devoted to the cult of the sun. One of the most interesting features is a set of two circular bowls, or "mortars," which sit in the center of a room and were carved directly from the bedrock floor. When filled with water the mortars have a reflective surface and presumably mirror the movement of celestial bodies.
Temple of the Condor: It includes massive carved stones and smaller fitted stones that make the shape of a condor's wings. The white carved stone on the ground forms the head, beak, and collar of the condor. Under the right "wing," there is a cave with stone niches.
The Fountains: A series of sixteen artificial fountains, carefully carved in stone and running perpendicular to the main drain that divides the urban from the agricultural sector. This is a stellar example of Machu Picchu's sophisticated hydraulic engineering. Water from a natural spring was channeled 2,456 feet from its source near the top of Cerro Machu Picchu to 16 ritual fountains, the first of which empties at the doorway of royal complex and is directed to the urban area through a complex system of aqueducts.
Huayna Picchu
The mountain Huayna Picchu forms the iconic background seen ubiquitously in Machu Picchu photographs. An Inca trail climbs rocky paths and stone staircases leading to terraces and temples that cling to cliff precipices and offer 360-degree views over Machu Picchu and the Urubamba River Valley. At the very top of Huayna Picchu there is a rock shaped like a seat, called the "Throne of the Inca," that faces directly south to the apu Salkantay.

Huayna Picchu is worth the climb for its views of Machu Picchu. Photo by MachuPicchu360.org.
Trekking Huayna Picchu: From the far western section of Machu Picchu, a guardhouse marks the entrance to the trailhead. Hikers must sign in before beginning the trek and sign out when coming off the trail. The walk takes from 45 minutes to an hour (though athletic types reach the top in 25 minutes). The path is not too difficult, but very narrow in some parts and steep drop-offs make this a terrifying experience for anyone who suffers from vertigo. The trail can become slippery under wet conditions.
Shortly after the start of the trailhead, the trail forks and a sign indicates the way to the Temple of the Moon. This trail descends 340 meters (1,120 feet) and goes around to the opposite side of the mountain. The Incas constructed fine stone walls, recesses, and niches beneath a shallow cave created by a rock overhang. The presence of unusually tall, double-jamb doorways indicate that the complex may have been a place of worship, perhaps for Huayna Picchu itself. This detour adds about 2 hours to the Huayna Picchu hike.
Currently, the only way to climb Huayna Picchu is to purchase a special ticket before you arrive at the site. It is best to purchase your Huayna Picchu ticket jointly with your general Machu Picchu ticket. At the time of purchase, you will have to decide if you want to hike the trail at 7:00 am or 10:00 am. Two hundred people are allowed to enter during each time slot, for a total of 400 visitors per day. Tickets that include Huayna Picchu access will be slightly more expensive than regular Machu Picchu entrance tickets.
Huayna Picchu at 7 am or 10 am? Each time slot has its own set of advantages and disadvantages. At 7:00 am, hikers tend to space out on the trail, which feels less crowded. Temperatures are coolest in the morning. However, heavy morning fog is common at Machu Picchu, especially in the rainy season, and hikers run the risk of being unable to see the views. Getting to the trailhead also requires an early morning start in Aguas Calientes. At 10:00 am, there is a greater chance that morning mists will have cleared. By the same token, temperatures will be a lot warmer and the high altitude sun will be more intense. Other hikers will be coming up and going down the narrow trail at the same time.
Although it is possible to tour Machu Picchu and hike Huayna Picchu in a single day, you should know be prepared for a long and tiring day not made any easier by the altitude, warm temperatures, and intense sunlight. The best strategy is to plan for 2 consecutive days at the archaeological site with an overnight stay in Aguas Calientes in order to be able to take it all in at a slower pace.
Travel tips & advice
Aguas Calientes (Machu Picchu Village)
Apart from the ruins and the Sanctuary Lodge hotel, there are very few facilities atop the ridge at Machu Picchu. The base town of Aguas Calientes provides a full range of visitor amenities including hotels, restaurants, cafes, and convenience shops. Trains to/from Cusco and the Sacred Valley depart from and arrive to the station in Aguas Calientes. The town can also be reached via the "back door to Machu Picchu" by foot (approx 2 hours) or by train (45 minutes) from Peru Rail's Hydroelectric station near Santa Teresa.
Transportation
Machu Picchu Trains
Peru Rail is the leading provider of train service to Machu Picchu. A second company, Inca Rail also serves Aguas Calientes but only to and from Ollantaytambo station in the Sacred Valley.

Trains provide year-round access to Machu Picchu. Photo by Orient-Express
Trains for Peru Rail depart from Cusco (Poroy station), Ollantaytambo, and Urubamba. The journey to Aguas Calientes from Cusco lasts approximately 3 hours 30 minutes; from Ollantaytambo, 1 hr 25 min; and from, Urubamba 2 hr 30 min.
Peru Rail provides three classes of service: Expedition, Vistadome, and the first class Hiram Bingham. The Expedition (formerly known as Backpacker) and the Vistadome trains provide a similar level of service and comfort. Seating of the Vistadome is slightly better, with more legroom and leather seats. Both trains are equipped with overhead windows for panoramic views and both provide snacks featuring Andean ingredients as well as live entertainment on the return journey.
The luxury Hiram Bingham service, operated by Orient-Express, offers a signature train journey to Machu Picchu. Interiors are exquisitely decorated with polished wood and plush seating. With a capacity for 84 passengers, the train includes two dining cars, an observation and bar car, and a kitchen car where the onboard chef works magic. The going train includes brunch and onboard entertainment as well as tea time at the Sanctuary Lodge; the return features a 4-course Andean-inspired dinner paired with Peruvian wines and onboard entertainment.
Shuttle Buses to Machu Picchu
Consettur operates the only shuttle bus service to Machu Picchu. The bus stop is located 0.2 miles or 3-5 minutes walking from the train station (see a map). Aguas Calientes is a small town and all hotels are within a few minutes' walking distance from the bus and train stations. Buses line up on the street and begin to move once they have a full load of passengers. The first buses depart at 5:30 am, arriving to the entrance of Machu Picchu just before the gates open at 6:00 a.m. Lines are longest first thing in the morning (between 5:30 am and 6:15 am) and when the mid-morning trains arrive from Cusco and the Sacred Valley (9 am to 10 am). Tickets for the bus can be purchased in Cusco or in Aguas Calientes in front of the bus stop. Most tours to Machu Picchu include the bus tickets in the total price of the package.

Aguas Calientes is the base town for travelers to Machu Picchu. Photo by Deb Pitton.
Machu Picchu Hotels
The Machu Picchu Sanctuary Lodge is the only hotel option available to travelers who want to sleep beside the ruins. But this experience comes with a steep price tag. Most of us stay down the road in Aguas Calientes. The good news is the days when travelers faced a near dearth of decent amenities are long gone. Today, there are plenty of hotels in Aguas Calientes to fit all budgets. An alternative option is to arrange an overnight stay and train travel from Ollantaytambo or Urubamba. However, if you'll be visiting Machu Picchu on two consecutive days, it's more convenient and overall less expensive to spend the night in Aguas Calientes.
The three hotels profiled here provide a combination of the location, value, and excellence of service.
Inkaterra Machu Picchu Pueblo Hotel
The 5-star Inkaterra Machu Picchu Pueblo Hotel is a naturalist's haven. Conveniently nestled in the verdant Andean cloud forest, this lovely hotel is perfectly situated to observe the region's astonishing flora and fauna. The eco-friendly hotel resembles an Andean village. Its charming white-washed cottages are decorated with modern indigenous art as well as authentic pre-Columbian artifacts. For a one-of-a-kind Machu Picchu experience, guests can select from a mexu of excursions (included) which feature hikes to the orchid garden, bird-watching sites, nearby archaeological sites, and visits to Inkaterra's own Spectacled Bear project. To wind down, sample the excellent cuisine at the restaurant overlooking the Urubamba River.
El MaPi Hotel
The recently renovated El MaPi Hotel boasts an ideal location a few minutes' walk from both the Aguas Calientes train station and the bus shuttle to Machu Picchu. This 4-star hotel aims to please with its stylish and modern décor and outstanding service. Beautifully landscaped gardens and a hot tub provide pre- and post-ruins relaxation. Each guest receives a complimentary cocktail at "El Bar," staffed by mixologists who know how to fashion great cocktails featuring locally sourced ingredients. Guided tours to surrounding archaeological sites and bird-watching spots are available upon request. The excellent on-site restaurant features novo-Andean cuisine.
Andina Luxury Hotel
Travelers seeking comfort and convenience at a great value in Aguas Calientes have a great choice in Andina Luxury Hotel. Situated just 200 meters from the train station, the 3-star hotel boasts 31 fully-equipped and tastefully decorated rooms. Each accommodation features wooden furnishings and a large bed covered with comfortable bed linens. Select rooms feature breathtaking views of the river. Andean art adds a finishing touch to exposed brick walls. All accommodations include Internet access, an LCD screen cable television, and air-conditioning, while the hotel itself serves guests with a restaurant, bar, sauna, and gym.
More Machu Picchu Hotels
Machu Picchu Restaurants, Shopping, Nightlife
Restaurants
Lima's gastronomical boom has been so far-reaching that it's aftershocks are felt even in a relative outpost like Aguas Calientes. An easy way to sample the best of Peru's culinary traditions is to visit the restaurants of top hotels: Qunuq Restaurant at Sumaq Machu Picchu Hotel and Cafe Inkaterra at Inkaterra Machu Picchu Pueblo Hotel are two excellent choices featuring inventive cuisine from locally-sourced ingredients.
Aguas Calientes also hosts many independent restaurants. Most are clustered around the old train station and on Av. Pachacútec.
Toto's House, Av. Imperio de los Incas s/n, Aguas Calientes - $5-$20
The mammoth-sized Toto's House can fit a staggering number of people, 400 to be exact. Its scale is matched by the variety of food on offer served at an all-you-can-eat buffet. Smaller appetites can choose from the extensive a la carte menu. The roaring Urubamba River is visible through all of the windows; its booming wake fits in nicely with the grandiose nature of Toto's.
El Indio Feliz, Lloque Yupanqui 4-12, Aguas Calientes - $8-$18
El Indio Feliz (The Happy Indian) may not be the more accurate descriptor of indigenous peoples during and after the Spanish conquest, but a meal at this excellent French-Peruvian restaurant in Aguas Calientes is sure bring a smile to any adventurer's heart. Verdant plant decorations adorn the interior and harmonize with the jungle outside. The delightful restaurant offers an a la carte menu but much better value is the Peruvian criollo menu which includes national favorites like sopa a la criolla and trout seasoned with garlic and lemon.
Pueblo Viejo, Av. Pachacútec 108, Aguas Calientes - $5-$15
The cozy Pueblo Viejo stands out first for its lively appearance which is balanced by a subdued interior and relaxing dining atmosphere. This restaurant also benefits from a roaring fire and live Andean music, both of which spread the warmth of Peruvian hospitality. Parrilladas (barbeques) are the house speciality, lamb, pork, alpaca and trout (the local favorite) cooked to perfection on the grill. This is a much more affordable option with various Peruvian menu options and courses and delicious pizza is also on offer.
Chez Maggy, Av. Pachacútec 156, Aguas Calientes - $5-$10
An old standby in Cusco, this branch of the friendly and popular Chez Maggy stays true to the brand with a relaxing atmosphere perfect for enjoying a tasty oven-baked pizza washed down with a cold Cusqueña beer. Alongside the popular Italian favorites of pizza and pasta is a whole range of typical Peruvian dishes and also Mexican food. The pizza is definitely the hot favorite here though.
Machu Picchu Nightlife
If you've been piqued by the legendary after-dark scene in Cusco, you'll be disappointed by the scanty options in Aguas Calientes. Most shops and restaurants start winding down around 10 or 11 pm. There is a scattering of bars and nightclubs, but many travelers tend to turn in early to be rest up for their tours and/or train departures the next day. After a long day of touring under the Andean sun, you'll probably want to do the same.
Bars and restaurants are concentrated on Avenida Pachacutec and around the main plaza, where there is a statue of the Emperor Pachacutec. This small area is easily walkable, with many establishments in which to have a pisco sour or a beer while people-watching and interacting with young locals and fellow travelers. Many establishments offer 4-for-1 drink specials. Beware of this hook! Ask for exact prices before you sit down. The bill for that 1 drink is often equivalent to what you would pay for 4 drinks in any other part of Peru. As an example, 4-for-1 beer will cost S./24, the same price as 4 beers in Cusco.
Shopping in Machu Picchu
Prices in Aguas Calientes and Machu Picchu are heavily inflated in comparison to other parts of Peru. (Consider that virtually everything for sale in Aguas Calientes is shipped in by train.) Shoppers are advised to buy souvenirs in the Sacred Valley or in Cusco.
Upon exiting the train station, you will enter directly into a large souvenir market consisting of a maze of stalls selling paraphernalia such as hand-woven textiles, alpaca sweaters and scarves, ponchos, handcrafts, happy pants, and chullos, the ubiquitous Andean hat. If something catches your eye, try haggling with vendors to try to bring prices down.
After crossing the bridge, you'll see the 2-story Mercado Central. On the first floor, vendors sell fresh fruits, vegetables, and food staples. On the second floor, there is a "dining court" where you can buy sandwiches, fruit juices, and inexpensive set meals (menú) for lunch. Mini-markets, pharmacies, and small general stores are scattered throughout the small town.
Machu Picchu Health and Safety
Drinking water: As with anywhere in South America, it is best to drink bottled water to prevent contraction of harmful parasites or water-borne illnesses on a trip to Machu Picchu. If no bottled water is available, be sure to travel with water purification tablets or boil water for 15 minutes to eliminate any harmful bacteria. There are plenty of small shops in Aguas Calientes where you can refill on bottled water. Cielo and San Martin are two reliable brands - con gas is carbonated or sparkling water, sin gas is still water. Most hotels and hostels also sell bottled water. Like almost everything else for sale in Aguas Calientes, expect to pay inflated prices for bottled water. (Remember that there are no roads to Aguas Calientes; all goods are shipped here by train.)
Altitude: The average elevation at Aguas Calientes is 1,000 meters (3,300 feet) lower than Cusco. Altitude sickness is nonetheless a possibility. It is best to avoid caffeine, smoking, or alcohol as this will amplify the effect of altitude-induced dehydration – be sure to drink plenty of water as well. Munching on coca leaves or drinking coca tea is a good remedy for soroche ( the local name for altitude sickness).
Stay safe: Aguas Calientes isn't known for crime (it is virtually non-existent in Machu Picchu), but travelers should always remain wary of theft. This particularly applies when in large crowds of people such as at the train station where bag-slashing or pick pocketing can go unperceived by the victim. Never leave bags or other valuable items unattended.
Machu Picchu History
Construction for Machu Picchu began in 1450 and stopped in 1540 but was never fully completed. There is no shortage of theories to explain how and why the site was built and later abandoned. Today, Machu Picchu is Peru's biggest attraction and receives an estimated 1 million visitors per year. We can divide the history of Machu Picchu into three periods: pre-Columbian, colonial, and modern.

The Urubamba Valley is an ancient landscape of stunning beauty. Photo by Hiram Bingham
Pre-Columbian
The Incas never developed a writing system. This means that very little of what we know about Machu Picchu comes from the Incas themselves. (To keep records, the Incas relied on knotted cords, called khipus.) Even the world-famous words "Machu Picchu" do not describe the original name of the site, which has long been forgotten to memory. Much of what we do know about Machu Picchu and the Incas has been cobbled together from colonial-era documents (often written decades after the events that they chronicle) as well as archaeological excavations, ethnohistorical data, and other scientific evidence.
Based on this evidence, most scholars can agree on some
basic facts about Machu Picchu:
Construction began under the reign of the Inca king Pachacutec around 1450 A.D.
Fine stone masonry signals that the site was unusually important.
Machu Picchu was abandoned sometime after Spanish conquerors arrived to Cusco in 1533, which means that it was inhabited for less than a century.
Excavations into the foundations reveal that Machu Picchu was a tremendous feat of civil and hydraulic engineering.
In fact, 60% of Machu Picchu's construction lies beneath the visible surface. A great deal of work went into stabilizing the ridge, and this guaranteed the site's longevity in a region prone to landslides and heavy rains.
Aside from those solid facts and a few others, almost everything else we know about Machu Picchu - why the site was chosen, who lived there, what it was used for, why it was abandoned - is speculation. There are countless theories that attempt to solve the mysteries of Machu Picchu. The best of these are backed by hard scientific research, deep historical context, decades of ethnographic investigation, and some lucky archival finds.
Among scholars of Machu Picchu, the leading theory is that this mountaintop city was the royal estate of Pachacutec, the ninth and greatest of the Inca emperors. In 1987, historian John Rowe revealed the discovery of a 16th century document indicating that the lands of the river valley near Machu Picchu, referred to simply as the "Picchu" region, belonged to Pachacutec and his descendants.
Machu Picchu shares the characteristics of archaeological sites such as Pisac, Chinchero, and Ollantaytambo, which have also been identified as royal estates. These were built to commemorate the military victories of Inca kings and they were used primarily for the enjoyment of the king and his panaca, or royal lineage. They are also notable for the prevalence of religious architecture which displays exceptional masonry and techniques perfected in imperial Cusco.
The anthropologist Johan Reinhard, a specialist in high altitude archaeology, concludes that Machu Picchu was a "sacred center," where the economic, political, and religious aspirations of the Inca Empire were united. Reinhard argues that the site's location was entwined with the alignment of nearby mountain peaks, celestial bodies, and the flow of the Urubamba river.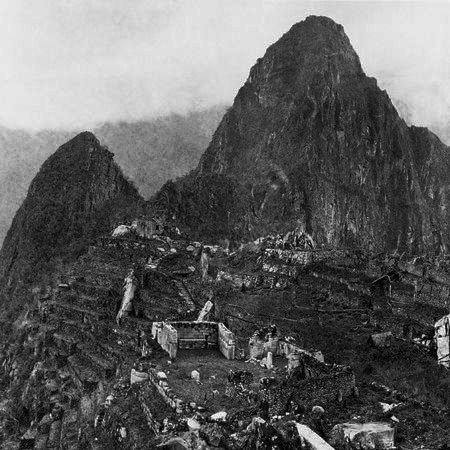 Lost Inca city found. The year is 1911. Photo by Hiram Bingham
Still other theories hold that Machu Picchu could have been an allcahuasi housing the Inca's chosen women, or maybe an agricultural experimentation center, perhaps a prison, or a llaqta from which the Inca state exerted control over a "vertical economy" that encompassed a range of altitudes and productive zones.
Building methods at Machu Picchu remain the largest source of controversy. We can guess that, like in many parts of the Inca Empire, tributary laborers were seasonally mobilized to construct and maintain the site. The now-grayish stones of Machu Picchu were originally white, and the granite blocks were extracted from quarries located on the rocky outcrops of the ridge itself. A few select stones are from as far away as Ollantaytambo. The stone was shaped with bronze instruments and polished with sand, a painstaking process that surely consumed thousands of hours of labor.
It is unclear why or when the site was abandoned. Historically, royal estates were not passed on to successors but rather inherited by the emperor's panaca. The waning importance of Pachacutec's lineage after his death may have led to the site's gradual decline. Other theories hold that Machu Picchu's residents may have died in a smallpox epidemic or fled upon news that Spaniards had conquered Cusco. In any case, the city was abandoned rather suddenly and, in the tumult of the conquest years, it slipped into the shadows of history.
Colonial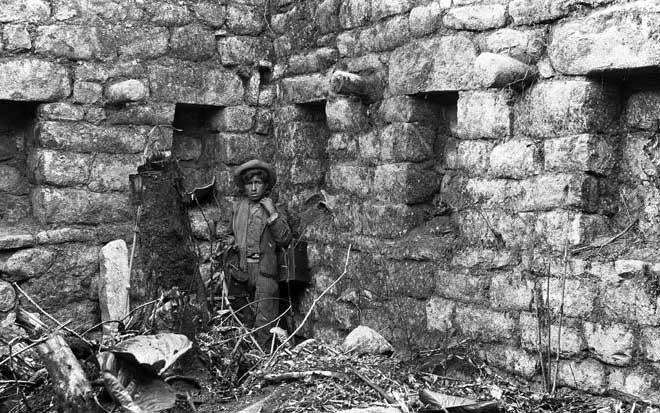 For indigenous people who lived in and around the ruins, Machu Picchu was never lost. Photo by Hiram Bingham
Did Spaniards visit Machu Picchu in the years after the conquest? We're not sure. Given the missionary zeal of Catholic priests and the insatiable thirst of treasure-hunting soldiers, the destruction or ransacking of Machu Picchu would have merited some mention in colonial source material. Documentation on the collection of tribute makes mention of the "Picchu brook", but tenant farmers traveled to the neighboring town of Ollantaytambo to submit their payments to the local "encomenderos" and "corregidores."
The site was certainly never adapted for permanent settlement in the way other Sacred Valley royal estates were. Ollantaytambo, for example, remains an excellent example of Inca urban planning and its old canchas have been inhabited from Inca times up to the present. Meanwhile, the ruins of Pisac are one of the best preserved examples of Inca architecture in the Sacred Valley. By contrast, Machu Picchu was lost to official memory until 1911, when a chance exploration forced the site back into a global spotlight.
Modern
Official accounts may have ignored or neglected the existence of Machu Picchu, but local people remained cognizant of the site, its location, and its importance.
Beginning in the late 19th century, explorers like Antonio Raimondi, Augusto Berns, and Agustín Lizárraga variously mapped or reached the site, but ventures like these were not widely publicized.
Then, in 1911, Yale history Professor Hiram Bingham III traveled to the Cusco area in search of Vilcabamba, the legendary last refuge of the Inca rebels where they organized guerilla-style resistance efforts until their final defeat in 1572. In the company of local sharecropper Melchor Arriaga and a local police officer commissioned by the Peruvian state to accompany the crew, Bingham made his way from a plantation called Mandorpampa, a 5-days' journey from Cusco, and unveiled the first traces of what seemed to be "the largest and most important ruin discovered in South America since the days of the Spanish conquest." It was noon of July 23, 1911, and the lost Inca city had been found.
After mapping the site, Hiram Bingham was convinced that he had reached Vilcabamba. Bingham's team excavated the ruins and the material artifacts were flown from Peru to the U.S. Staff at the Yale University Peabody Museum inventoried the findings and placed them into storage rooms, where they languished for decades.
In the 1950s, new explorations proved Bingham wrong - the real Vilcabamba was deeper in the jungle. But Bingham had made his mark. By bringing international attention to this important site, he certainly changed the history of Peru.
In 2011, the impending centennial of Bingham "scientific discovery" impelled new interest in the field of Machu Picchu studies. Celebrated in Peru as the 100th birthday of Machu Picchu, the occasion also ignited controversy over the rightful possession of and guardianship over those ancient remains. In 2010, after years of pressure from Peruvian officials, Yale University agreed to return its Machu Picchu artifacts to Peru.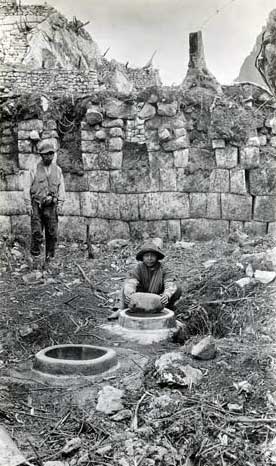 A Quechua boy appears to demonstrate the use of a "mortar" at Machu Picchu. Photo by Hiram Bingham
In recent times, the tools of modern scientific analysis have revealed some fascinating facts about Machu Picchu. The engineer Kenneth Wright, in collaboration with Peruvian archaeologist Alfredo Valencia Zegarra, argue that the site is a marvel of civil engineering and environmental design. In examinations of the terraces and drainage system, they have found that up to 60% of Machu Picchu consists of subsurface construction. This extensive underground work accounts for the site's longevity.
Scientists have also reanalyzed the skeletal remains and grave goods retrieved during Hiram Bingham's 1911-1912 excavations and their findings have shed light on the daily lives of the servant classes buried at Machu Picchu. By measuring the carbon and nitrogen isotopic ratios in bone samples, scientific have been able to narrow down origins of the retainers, called yanaconas, who were moved from different parts of the empire to serve at Machu Picchu.
In the 21st century, Machu Picchu has become a tremendous source of pride for Peruvians and a symbol – portrayed in bank notes, coins, and innumerable logos – of the greatness of their history. But much-needed debates about the preservation of the ruins rage on. UNESCO added Machu Picchu in the list of the World Heritage Sites in 1983, but this status remains contingent on the ability of Peruvian officials to work towards the conservation of the site.

More than 100 years after its discovery, Machu Picchu is Peru's top destination for travelers from around
the world. Photo by Peru for Less
Download our travel guides for free and take them with you on your dream vacation!


We do have the lowest prices. We will meet or beat any internet published rates from companies outside Peru
for all package tours. All HOTELS and TOURS are based on US standards. No late booking fees.
We have the best reviews. Our professional and expert staff is at your service and will reply to any request
within 24 hours. While traveling in Peru you will have access to our local 24/7 emergency number.