Arequipa, Peru's second city, is one of the many must-see destinations in Peru. The famously beautiful city, known as the White City thanks to its dazzling white silica stone architecture, is fiercely proud of its unique cultural heritage and excellent cuisine, both of which date back to the days of the Inca.
The city and its surrounding landscapes are literally breathtaking – due to the high altitude and thin mountain air. Visitors arriving from Lima are advised to take things slowly and get used to the altitude before attempting anything too energetic.
Any visit to Arequipa begins in the Plaza de Armas and the surrounding area. This is Arequipa's old colonial center, where the Spanish set about converting indigenous Peruvians to Christianity with a missionary zeal that is reflected in the grand, imposing architecture of Arequipa Cathedral.
Entrance to the Cathedral is free, but access to tourists is restricted during Mass. There are Masses every morning so content yourself by marveling at the beautiful exterior with its wide buttresses and twin spires.
The Plaza itself is well worth a walk around and you'll find snapshots of everyday Arequipa life watching the locals enjoy the bright mountain sun, shooting the breeze and playing around the fountain.

Stop for lunch in one of the many cafés that ring the Plaza, many have second floor balconies from which you can enjoy the view while sipping your coffee. Above the rooftops you will see a distant landscape dominated by the mountains and volcanoes which make this region famous, in particular the El Misti volcano which is never far from view.
After lunch, head a few blocks north to the Monastery of Santa Catalina, one of the largest religious complexes in South America. Taking up two whole blocks, the Monastery has a long and rich history packed into its winding streets, chapels and houses which together make up a miniature city within Arequipa itself.
Entrance is 30 soles plus an optional guided tour which is available in English and is highly recommended for the fascinating insight into cloistered life within the secretive Monastery which was only opened up to the outside world in the 1970s.
You can spend an entire afternoon exploring the Monastery before heading back along the colonial streets to the Plaza to catch the sunset shooting a fiery red glow over the silica buildings.
Spend as long as you like soaking in the rich atmosphere and work up a big appetite for one of Arequipa's many picanterias, restaurants offering hearty servings of local specialties.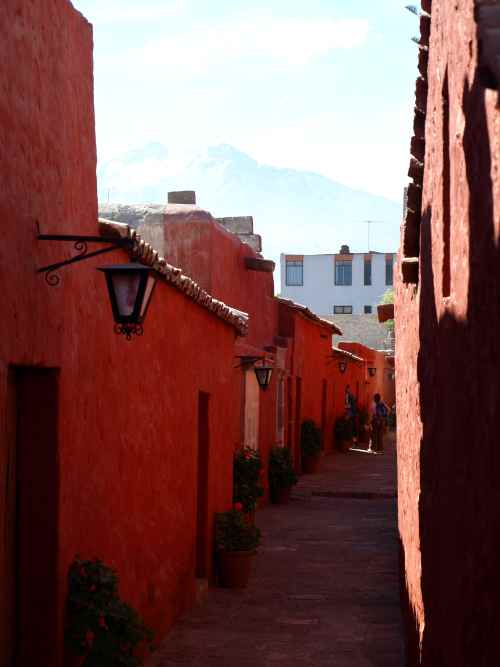 There are many great places to enjoy Arequipa's spicy cuisine, such as Ary Quepay, a well-known local favorite which offers everything from llama steaks, to guinea pig stews to rocoto relleno, a tangy large chili pepper stuffed with meat and vegetables and served swimming in potatoes and white cheese sauce.
If you have the energy after dinner, explore the area surrounding the main Plaza, which offers no end of cafés and bars which will stay open into the small hours, pumping out a never ending stream of folkloric music and, if you're lucky, the occasional traditional dance.
Most Arequipa hotels offer guests a hearty breakfast, otherwise consider dropping in to a bakery and ordering a freshly baked empanada, a savory pastry filled with meat, vegetables or cheese fillings.
After breakfast, head to the Museum Santury (entrance 10 soles), a small but fascinating museum into pre-Spanish civilizations in the region. The museum focuses on the Inca's worship of the surrounding mountains, which were considered Gods in recognition of their awesome power, frequently experienced through volcanic eruptions and earthquakes.
The museum has a small staff of English speaking guides who will talk you through the many excellently displayed exhibits. The focal point of the exhibition is the refrigerated mummy of a 12-year old girl, named Juanita, who was recovered from the heights of the surrounding mountains.
Frozen in ice for over 400 years, Juanita offers a fascinating insight into the Inca world and their spiritual beliefs, which included human sacrifice to the mountain Gods. Juanita is one of hundreds of youngsters who were sacrificed in these ceremonies, in the hope that these offerings would save the Incas from natural disasters.
After the museum, take a taxi to the central market (mercado municipal). If you get here early enough you'll experience the frenetic activity and trade in virtually everything, from traditional produce of the surrounding farmland to modern day items and consumer goods.
For those with a strong stomach, a visit to the meat and fish section is an interesting detour, but don't be surprised by standards of hygiene which may be unfamiliar to Westerners raised in the comforts of the local supermarket.
The market is a good place to stop for lunch, take your pick from any of the stalls which offer an endless range of freshly prepared food, from roast pork sandwiches, to ceviche and spicy meat stews. Don't be shy to ask what is being served, and feel free to point at another diner's plate to order the same!
Afterwards, head back to the Cathedral if you didn't already get a chance to take a look inside. Much of what you'll see is from various reconstructions following successions of natural disasters over the centuries. Of special note are the dominating statues of the 12 apostles which stand guard under the Cathedral's columns.
If you have any energy left, catch a taxi out to the nearby Cayma neighborhood, which is nicknamed El Balcon (the balcony) for its splendid views over the city. This is a perfect spot to catch sunset over Arequipa and snatch a couple of impressive photographs to remind you of your stay in this beautiful city.
If you're staying in town for one more night, head to Calle San Fransisco, north of the Plaza where you'll find a large range of excellent restaurants and bars to spend your last evening in the White City before heading to this Peru destination.
Plan a Peru tour. Call and chat with one of our awesome travel advisors and discover Peru's diversity!
Matt left England for Peru in 2008, originally planning to stay for just 12 months but ending up settling down in Lima working for Latin America For Less for three fun-packed years. He remains a perpetual traveller, working and writing his way through Europe, North America and Asia but he has always saved a special place in his heart for Peru and South America.