Think Peru, think Machu Picchu, right? Wrong. The fact is the famed Incas were just one of countless civilizations that inhabited ancient Peru over the many thousands of years of human history in the Americas.
Sure, many trips to Peru include a tour of Machu Picchu as a must-see. But for those with more time to spare and a keen interest in Peru's long and fascinating ancient history, consider a visit to some of these alternative archeological spots to broaden your Peru travel experience.
Explore Peru's other archeological hotspots
Kuelap Fortress
Near Chachapoyas, northern Peru
Created towards the end of AD 900 and taking several hundred years to finish, the vast fortress at Kuelap is a perfect example of the sophistication and might of the pre-Inca Chachapoyas civilization.
The fortress itself occupies an enormous surface area, over one kilometer long and rivaling the size of almost all other ancient structures in the Americas. At 3000 meters above sea-level, the fortress was once an enormous symbol of power that dominated the Utcubamba Valley.
The site contains the remains of some 400 structures, most of which are in a ruined state although some reconstruction work has taken place, to give visitors an idea of the site's former glory.
The fortress occupies a green, lush landscape and many of the walls contain original decorations. In certain areas, the local style of constructing spherical buildings was replaced by the Incan rectangular style, suggesting a long-forgotten history of war and conquest.
Access to the site is tricky but can be easily arranged by a Peru tour operator.
Entrance $3.
Chan Chan
Trujillo, northern Peru
The unique Chan Chan Ruins near Trujillo, Peru
Further south from Kuelap, on Peru's northern coastal plain near the city of Trujillo, is the ancient city of Chan Chan, a World Heritage Site that is thought to be the largest ancient city in the Americas.
Constructed entirely from adobe, the city has been remarkably well preserved thanks to the arid desert environment which is only threatened by occasional El Niño tornados.
The city was constructed by the Chimu civilization between AD 800 and 900 and thrived with tens of thousands of inhabitants until the Incas arrived in the mid 15th century.
The remaining structures consist of ceremonial buildings, graves and tombs, religious structures and dwellings. The city was carefully planned to exploit the weather and sunlight as well as to provide protection against the coastal winds. Its tall walls give the city a maze-like feel and the many wall carvings and decorations reveal an intricate and masterly level of craftsmanship.
Access to Chan Chan is easy from the city and transport hub of Trujillo and guided tours can be arranged.
Entrance $3.50.
Caral
Near Barranca, north of Lima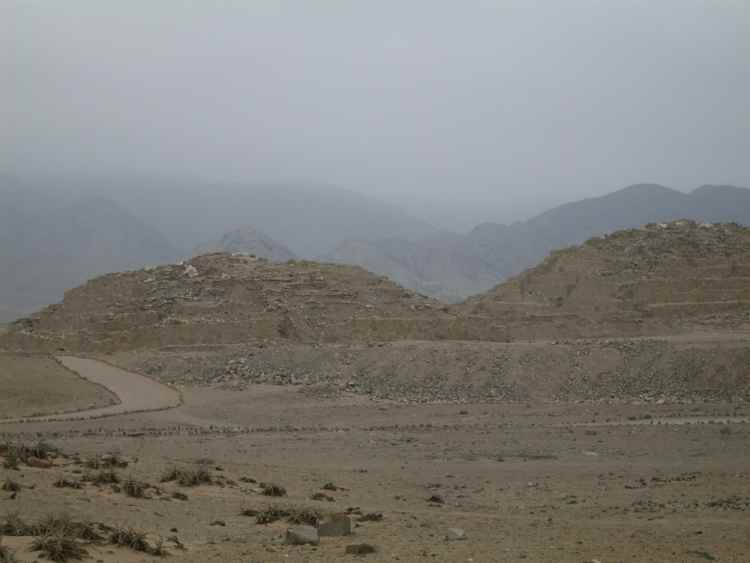 The oldest city of the Americas, Caral, near Lima, Peru
Around 200 km north of Lima lies the oldest city in the Americas, the monumental desert city of Caral.
A city-state which developed during the same time of the civilizations of the "old" world, Mesopotamia, Egypt, India and China, recent discoveries at Caral have overturned many previously accepted theories of ancient history and the rise of human civilization.
The site was re-discovered during the mid 20th century but received very little attention due to the relative lack of retrievable artifacts. It was only with detailed investigation that the complexity of Caral's pyramids and other structures including temples and an amphitheater was revealed.
Likewise, a number of discoveries have revealed a complexity to ancient civilization that archeologists long assumed never existed this early in the Americas. Finds revealed that the Caral people were a peaceful civilization who had developed advanced systems for trading and accounting.
Depictions of monkeys and other jungle animals suggest that the Caral people had trading links that reached far into the Amazon, discoveries that have forced scholars to rethink many long-held beliefs about Peruvian ancient history.
Tours to Caral can be arranged from Lima or by any international Peru tours operator.
Entrance $3.
Tucume
Near Chiclayo, northern Peru
The site of Tucume is another ancient pyramid complex which spans several hundred acres and includes several dozen structures and man made hills. The site was the scene for several successions of civilizations and was originally inhabited from around AD 800 by the Sican people, followed by the Chimu, before the Incas arrived in the mid 15th century.
Many local folkloric tales add to the site's sense of mystery, known locally as "Purgatory" from the Spanish attempt to convert indigenous people to Christianity by constructing fires atop the mounds and claiming it to be purgatory itself.
To this day, many superstitious locals refuse to visit the site but access is easy from the town of Chiclayo.
Entrance $2.
Batan Grande
Also near Chiclayo, northern Peru
Also established by the Sican people, Batan Grande is the source of the vast majority of ancient Peru's golden artifacts as well as home to dozens of pyramids dating from around AD 800.
The site is now a national park and includes an ancient stretch of the Pomac Forest which offers a tranquil and relaxing environment, plus opportunities for horse riding and camping.
There is also a good museum which provides a fascinating insight into ancient life in this region.
To get to the site, take a taxi or bus from Chiclayo.
Entrance $3.
Plan your own Peru tour. Call and chat with one of our expert travel advisors to plan your own dream vacation.
Matt left England for Peru in 2008, originally planning to stay for just 12 months but ending up settling down in Lima working for Latin America For Less for three fun-packed years. He remains a perpetual traveller, working and writing his way through Europe, North America and Asia but he has always saved a special place in his heart for Peru and South America.