The mythical and ancient city of Cusco is often the pinnacle of people's Peru vacations. Teeming with history, a window to a former world and an artifact of long-gone civilizations, Cusco could consume weeks of a Peru travel experience. But for visitors without time to spare, it is possible to squeeze the city's highlights into two short days.
A Cusco introduction
The best hotels in Cusco are concentrated in the city's central districts so if arriving by air, take a taxi (5 soles) from the airport. Begin your stay with a visit to the city's Plaza de Armas, the central legacy of the city's colonial history.
Arriving in the city in 1533, the Spanish were determined to stamp their mark on the rebellious Incas by constructing impressive monuments to European civilization on important spiritual sites. The Plaza de Armas with its dominating cathedral and plethora of other religious buildings is a prime example.
You can visit the cathedral (entrance $5) which was constructed directly atop the remains of a grand Inca palace. Inside the cathedral you will be treated to a fine display of art from the Cusco school, another remnant of the Spanish conquest which blended indigenous and European traditions, intended to assimilate European cultural dominance over indigenous civilizations.
Most of the other attractions within Cusco can only be accessed by purchasing a tourist ticket, the boleto touristico ($40) which seems expensive, but guarantees access to all of the major sites and which is valid for ten days. To get the most value from your ticket, take a Sacred Valley tour after your stay in Cusco and visit as many additional sites as possible.
Purchase your ticket from the main tourist office just one block east of the Plaze de Armas. Your ticket will be accompanied by a handy map to Cusco, with a walking tour of the main sites around the old town. Look carefully and you'll notice that the original city layout was designed in the shape of a puma by the celebrated Inca ruler, Pachacutec.
Your walking tour begins nearby at the museum of Coricancha, located in the basement of a former temple with a wide selection of exhibits documenting Inca life. Look out for the eerie remains of ancient mummies that were retrieved from the cemetery.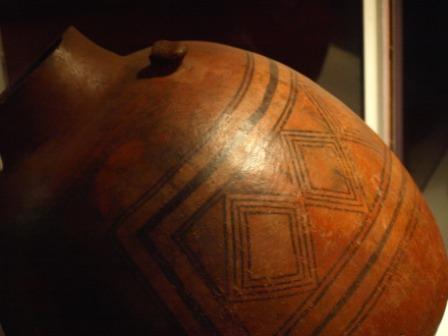 Pre-Colombian exhibits at Cusco's Coricancha museum, Peru.
Photo by Matthew Barker 2009
Just a short walk along from the museum is the Cosqo Center of Native Art, with a vast collection of indigenous costumes and musical instruments. If you're lucky you'll catch a short performance of local music and dance. Check for performance times at the front desk.
From here, follow the busy Avenida El Sol (Sun Avenue) which was named in honor of the Inca's worship of the sun god, Inti. You'll eventually reach a busy junction dominated by a colossal statue of the Inca leader Pachakuteq. You can climb this tower although the views of the busy streets below are not stunning – the real attraction is inside, with an illustrated history of the Inca leaders and a brief history of their vast empire.
Head back to town in the same direction and stop in at the enormous handicraft market for some great bargains on souvenirs. This is probably the cheapest place to get your hands on those famous Peruvian holiday gifts; panpipes, woolly hats, ponchos and bags made from colorful textiles and llama wool.
The market is also home to a couple of great value restaurants where you can replenish your energy with a large plate of the local specialties which include guinea pig and alpaca steaks.
Walk back to the colonial center choosing your own route through Cusco's trademark winding, cobbled streets and take in the atmosphere of this ancient city.
If you have the energy, spend the afternoon making a short walk up to the San Blas neighborhood, perched on the hillsides above the Plaza de Armas. It is in San Blas that you'll get a feel for Cusco's famous vibe, where bars and cafes, restaurants and bakeries, and tiny art galleries and handicraft stalls all compete for your attention.
This is also a place to catch some great views over the city, especially towards dusk and sunset. Spend the evening in one of the many cafes and bars in San Blas, the best of which are dotted across the top of the quaint Plaza San Blas.
Rise early and enjoy breakfast in your Cusco hotel before setting off for the city's biggest and most important archaeological site, Sacsayhuaman. This Inca fortress which lies across a mountain top above Cusco has a long, and sometimes bloody, history.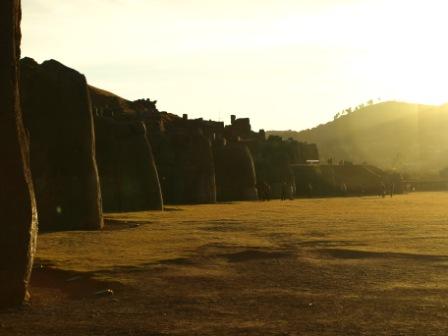 Vast stonework at Sacsayhuaman, Cusco, Peru.
Photo by Matthew Barker, 2009
What remains is just a fraction of the original site but the unbelievably huge stone blocks that were perfectly carved to create the vast structure gives a clear impression of the ingenuity and might of the Inca empire.
Despite this, it was here that the Inca's last stand against the Spanish failed after a long and dramatic siege came to an end, marking the conquistador's final domination over this  great civilization.
Only the very fit will attempt the steep walk up to the site, everyone else will want to hail a taxi (around 10 soles from the Plaza de Armas).
On-site information is very limited so you may want to hire a guide for around 30-40 soles. Prices are negotiable and tours in Spanish will be a bit cheaper. Alternatively, most international Peru tour operators will include a professionally guided tour of this important site in their itinerary.
You can easily spend a full morning at Sacsayhuaman before taking a return taxi to central Cusco for lunch in one of the cafes and restaurants on the Plaza de Armas.
Museum fans can fill up on more local history and culture at the excellent Museum of Contemporary Art and the Museum of Regional History, both to the south of the Plaza. Otherwise spend a leisurely afternoon exploring the city's back streets where glimpses of a former age are to be found everywhere – not least in the traditionally dressed women and girls posing for photos with their pet llamas (you'll be expected to pay 1 sole for the privilege though!)
Enjoy a final evening in Cusco's historical center, where all the most important and impressive buildings are well illuminated for extra effect. Treat yourself with dinner at Sumaq Misky on the main Plaza which serves up some of the finest food in town before heading out to enjoy the vibrant nightlife, or catching an early night's sleep before leaving for your next Peru vacation destination.
Plan a tour of Cusco and explore this beautiful city in the Andean region of Peru. Call and talk with an expert Travel Advisor now! 
Matt left England for Peru in 2008, originally planning to stay for just 12 months but ending up settling down in Lima working for Latin America For Less for three fun-packed years. He remains a perpetual traveller, working and writing his way through Europe, North America and Asia but he has always saved a special place in his heart for Peru and South America.