Chupe de Camarones – a thick soup made with tomato, shrimps, and hot pepper – is an Arequipa classic.
Photo by _e.t./Flickr
 The city of Arequipa provides an array of fantastic dining options to fit any budget. In our list of recommended restaurants below, a main course ranges from $10-$30 per person. Casual attire is the norm. Although it is difficult to select just a few, we recommend the following restaurants based on their long standing reputations, use of high quality ingredients, and the general dining experience they offer. Visit any of the restaurants listed here and you can truly say that you dined like Andean royalty in Arequipa!
An Arequipa food introduction
In a country widely lauded for its culinary diversity, the city of Arequipa stands out for its special offer of regional food specialties. Arequipeñan dishes are generally characterized by flavors that are rich, complex, and addictive. Arequipa is most famous for its picanterías, local eateries that serve traditional cuisine. The name derives from the word picante, meaning spicy, another key characteristic of local cuisine.
A great way to try typical dishes is to order the Americano (a sampler of popular plates), either a Doble or a Triple (two- or three-dish sampler). Foodies with big appetites will be delighted with the local tendency to serve large portions. If you are lucky enough to be in town on a Sunday, you'll definitely want to try the local favorite, Adobo.
This pork stew – typically served from morning until noon – is slow-cooked in a clay pot over an open fire.Fermented corn beer (chicha) adds extra depth to this delicious concoction. The flavors are so rich, adobo is said to revive the dead or cure a hangover!
AT A GLANCE
Price range: approximately $10-30 per person (main course)
Suggested tipping: about 10%
Dress Code: Flexible/Casual
Reservations: recommended, but not always necessary
La Tradicion Arequipeña

Patio seating at La Tradicion Arequipeña.
Photo by La Tradicion Arequipeña Restaurant
La Tradicion Arequipeña lives up to its name with a full menu of Arequipeñan classics. The restaurant enjoys a solid reputation among locals, having satisfied the palates of generations of Arequipeñans.
To reach the restaurant, you'll need to take a taxi or arrange private transport from your hotel or from the historic center to Paucarpata, a suburb of Arequipa. The extra effort is worth it, as this destination eatery provides superbviews of the Misti Volcano. Extensive outdoor/patio seating and well-kept gardens create an excellent environment to enjoy great food and good company. A small playground makes this a perfect option for families traveling with children.
Once you dig into the food, you'll quickly see why the genuine picantería experience at La Tradicion Arequipeña turns first-time visitors into repeat customers. Keep in mind that the restaurant is primarily open for lunch, but stays open late on Fridays and Saturdays to accommodate guests who come to enjoy live music and dancing. Try the Rocoto Relleno with a glass of Chicha de Jora (purple corn beer) to savor a true Arequipeñan tradition!
Rocoto Relleno ranks among our top 10 Peruvian dishes. Follow the link to see the others.
Address: Dolores 111, Paucarpata, Arequipa
Phone: +51-54-426-467
Hours: Noon-7pm on Thursday – Sunday; noon-10pm on Fri-Sat or later if there is live music
Note: Full orchestra on Saturday nights.
Reservations: Recommended
Sol de Mayo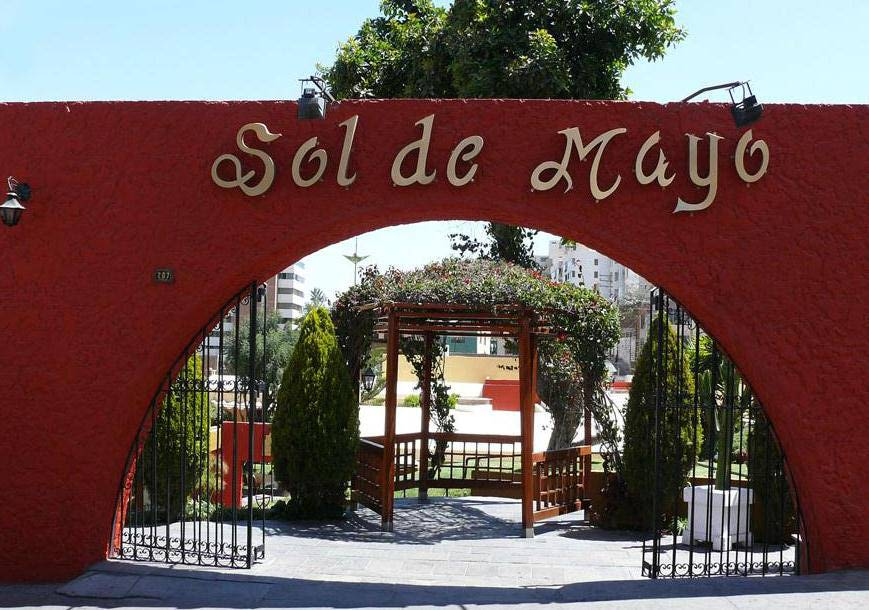 Enjoy sunlit patio dining, live music, and fantastic cuisine at Sol de Mayo in Arequipa.
Photo courtesy of Picanteria Sol de Mayo.
Sol de Mayo aims to charm with its lovely garden patio, friendly staff, and smart presentation of robust meals. This classic Arequipa picanteria is conveniently located in the neighborhood of Yanahuara not too far from the historic center and has established a reputation for serving delicious, high quality food. It is truly one of Arequipa's cross-generational crowd-pleasers. Live musical entertainment accompanies lunchtime service. Ample indoor seating, individual dining rooms for large groups, and extensive gardens makes this location ideal for larger groups or families.
Try the Chupe de Camarones (crawfish stew) or Cuy Chactado (stone pressed Guinea Pig) for your main course and finish your meal with Queso Helado (fresh vanilla ice-cream) for dessert. The rich flavors of a robust meal will create food memories that will stay with you for years to come.
Address: Jerusalen 207, Yanahuara, Arequipa
Phone: +51-54-254-148
Hours: 12-6pm
Note: Open for lunch only. Live music from 1pm to 4pm
Reservations: Recommended
Tip: Request patio seating for sunny views and proximity to live entertainment
Zig Zag Arequipa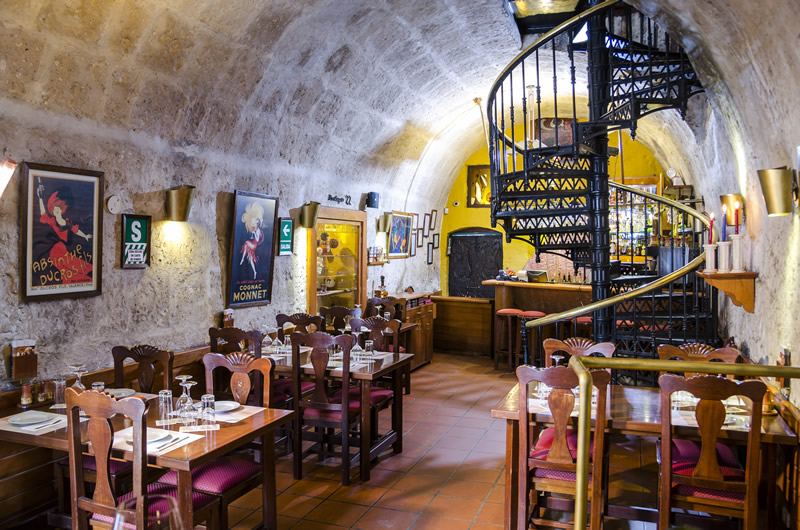 Prepare to be charmed by Alpine-Andean fusion at Zig Zag restaurant in Arequipa.
Photo courtesy of Zig Zag Restaurant
Alpine cuisine and Andean flavors combine to create a truly unique dining experience at Zig Zag restaurant in Arequipa. Its location in front of lovely Plaza San Francisco makes this the perfect occasion to explore the city center, sit on a bench, and observe local life unfold before or after dinner.
Housed in a refurbished sillar stone colonial home, Zig Zag boasts two levels of seating, with the two floors connected by a gorgeous iron-wrought Gustave Eiffel spiral staircase. This is one of Arequipa's best restaurants,winner of a TripAdvisor Certificate of Excellence in 2012.
Its "Alpandina" cuisine is the perfect union between the Alps and Andes. Begin with the Ostrich Carpaccio, then try either an exquisite fondue, a steak sampler (ostrich, beef and alpaca) cooked and served on a heated volcanic stone, or the famous Andean charqui (dry-cured meats). An extensive wine list, exotic fruit cocktails, and tempting desserts round out the menu. The restaurant is equally suited for a casual lunch, a romantic dinner, or even just cocktails.
Vegetarian sandwiches and to-go lunch orders are available by request. For something lighter, stop by Crepisimo, Zig Zag's sister restaurant specializing in crepes and wines, located in front of Monasterio Santa Catalina.
Address: Zela 210, Arequipa
Phone: +51-54-206-020
Hours: Open for breakfast, lunch, dinner; Zig Zag Bar remains open after kitchen closes
Reservations: Recommended
Note: Reserve balcony seating for a romantic dinner with a great view.
Chicha Arequipa

A beautifully painted interior courtyard at Chicha in Arequipa.
Photo courtesy of Chicha
Chicha enjoys a prime location in a beautifully restored colonial mansion facing the convent of Santa Catalina, one of Arequipa's main attractions. The restaurant is the enterprise of celebrity chef Gaston Acurio, whose refined culinary training is reflected in the preparation and presentation of classic Peruvian dishes with a modern twist. Vegetarians will be pleased to find meat-free versions of traditional specialties such as Rocoto Relleno (stuffed spicy peppers) and Anticuchos (skewered beef hearts) in vegetarian and faux-meat form. Chicha's extensive food selection includes pastas, organic salads, ceviches, grilled meats, pizzas, quinoa burgers and even adobo sandwiches – which means that even the most diverse of dinner groups will be pleased. Sample from the vast menu of wines and cocktails prepared with exotic fruits such as Tumbo or Camu Camu. For dessert, try the Chirimoya soufflé or Trío de La Ibérica (Iberica is Arequipa's famous chocolate company) to sample three delicious locally-produced chocolate mousses.
If you miss happen to miss out on Chicha in Arequipa, you have a second chance at Chicha in Cusco – or vice versa!
Address: Santa Catalina 210, Arequipa
Phone: +51-54-28-7360
Hours: Mon – Sat: 12:00 pm – 11:00 pm & Sun: 12:00 pm – 8:00 p
Reservations: Highly recommended
Zingaro

Zingaro is housed in a beautifully restored Arequipa casona (traditional house).
Photo courtesy of Zingaro Restaurant
A visit to Zingaro adds an enchanting edge to any dining experience, be it a special event, romantic dinner, evening cocktail session, or midday meal. The illuminated domed ceilings of this lovely restaurant are set inside a traditional Casona (colonial mansion) conveniently located in the Historic City Center. Traditional Arequipeñan and NovoAndino cuisine are both on offer. International and traditional cuisines are infused with mixes of Peruvian and Mediterranean flavors. The restaurant's menu includes a selection of grilled meats, salads, pizzas, pastas, risottos and vegetarian dishes. Try the Quinoto a la Pescadora (quinoa risotto with succulent shrimp tails), the Spicy Rocoto Steak, or a traditional Chorrillana Fish (fried fish with onion and tomato sauce served with sweet potatoes and rice). Complement your meal with any of Zingaro's 250 varieties of wines from the Americas, Australia and Europe. This is a meal you don't want to skip!
Address: San Francisco 309, Arequipa
Phone number: +51 54-217662
Hours: Monday-Saturday noon-11 p.m., Sunday noon-10 p.m.
Note: Good option for Romantic, Bar Scene, Groups, Business, Local cuisine, Special Occasion Dining, Entertaining clients
Reservations: Recommended
Plan YOUR OWN TOUR and experience Peru's highlights! Call and talk with a travel advisor today!